Let's Get Physical! Jake Steinfeld & Gov. Jerry Brown Lead The Charge At Launch Of Live Positively Fitness Center At San Jose Elementary School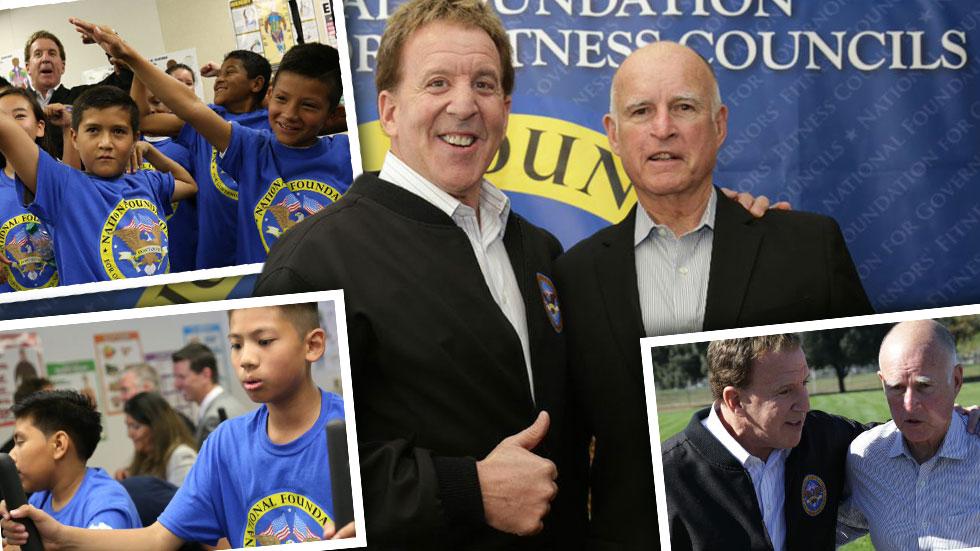 American fitness icon Jake Steinfeld and California Gov. Jerry Brown led the charge of nearly 650 students at a ribbon-cutting ceremony to launch a Live Positively Fitness Center at San Jose, Calif.'s Katherine Smith Elementary School.
Steinfeld, the chairman of the National Foundation for Governors' Fitness Councils, said he was "fired up" for last week's ceremony, and hailed the governor for his efforts.
Article continues below advertisement
The governor "immediately jumped on board and embraced our vision of building a nation with the fittest kids in the world — one school at a time" Steinfeld said. "He recognizes how important healthy kids are to the future of this great state! Today's leaders … understand the value of bringing innovative fitness ideas to students.
"This new fitness center will provide generations of students with the necessary tools to make physical fitness activities part of their daily routine."
Steinfeld, who has dedicated years of hard work into promoting his message of fitness to the masses, reiterated the importance of giving schools the resources to get kids into healthy routines early on.
"I firmly believe that if you provide the schools with the tools, students will excel beyond their wildest dreams," Steinfeld said. "Not only will these students be healthier, but they'll be more confident, have greater self-esteem and ultimately achieve greater academic success."
Article continues below advertisement
Gov. Brown hailed the foundation's efforts in getting "top-notch fitness centers in our schools.
"Get fit, get healthy — that's what it's all about," the governor said.
Smith Elementary was one of three schools in the state to receive one of the state-of-the-art facilities "for demonstrating innovative ways in promoting physical activity and wellness to their students," according to the foundation. The Live Positively Fitness Center — which does not rely on taxpayer dollars or state funding — was also made possible with help from Coca-Cola and AOL, the foundation said.