The 'Hard Candy' That Does A Body Good: Madonna Cuts Ribbon On New Gym In Toronto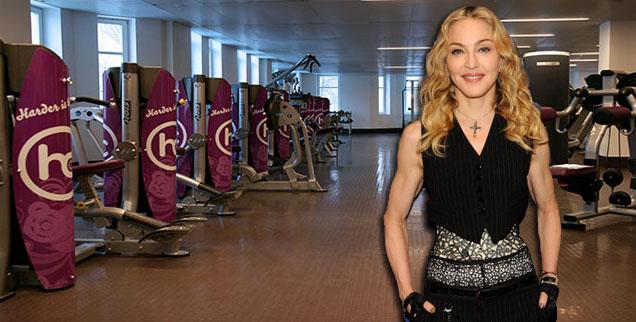 Madonna's getting into the fitness business.
The Material Girl, who's always been hailed for her amazing physique -- and in particular her strong, bulging biceps -- has opened the doors on a club chain named after her 2008 hit album, Hard Candy, our friends at OK! report.
The chain's first North American location, Hard Candy Fitness, is located in Toronto, encompassing a spacious 42,000 sq. feet. It has accoutrements that will get the blood pumping in any fan of fitness or the femme fatale, such as a museum-like array of images of Madge on the walls, with an endless playlist of her hits blaring through the speakers.
Article continues below advertisement
The "Express Yourself" singer does an excellent job of doing just that through the club's workout classes, which are based on the same movements and motions that have left the 55-year-old music legend with a figure women have her age would kill for.
"The core of the HCF brand is its proprietary 'Addicted to Sweat' group fitness programming created from the actual workout routines Madonna uses with my guidance, the music -maker's personal trainer, Nicole Winhoffer, told SHAPE, noting that the program is divided into two classes: Jawbreaker , a 30-minute toning session and Addicted to Sweat dance class, which packs in a full hour of cardio.