Start 'Em Young! Jake Steinfeld Cuts Ribbon At Launch Of Fitness Centers For Atlanta Middle Schools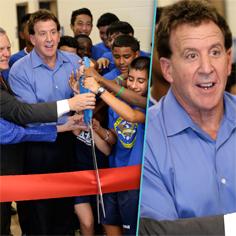 Fitness great Jake Steinfeld was front-and-center in Atlanta for a ribbon cutting ceremony for the opening of one of three Live Positively Fitness Centers at one of three local middle schools that emerged victorious in a competition put on by the National Foundation for Governors' Fitness Councils.
"The leaders of the winning schools understand the value of bringing innovative fitness ideas to their students, and it's paid off," the Body By Jake legend told RadarOnline.com in a statement after the ceremony at Berkmar Middle School.
Article continues below advertisement
The fitness centers, opening at a trio of area schools (Berkmar, Harper Archer Middle School and C.L Gideons Elementary School), Jake said, will "provide generations of students with the necessary tools to make physical fitness activities part their daily routine."
Jake, who serves as chairman for the council, was "fired up" for the occasion, saying the mind-body connection will help kids both in the gym, and the classroom.
"I've always said that academics and fitness go hand-in-hand," he said, "and I firmly believe that if you provide schools with the tools, students will excel beyond their wildest dreams.
"Not only will these students be healthier, but they'll be more confident, have greater self-esteem and ultimately achieve greater academic success."
Georgia Governor Nathan Deal was on hand for the occasion as well, saying it's his "hope that every child in Georgia will be inspired by the students at these three winning schools and will pledge to make fitness part of their daily lives."