Terminate The Excess Baggage! Arnold Schwarzenegger Is A Big Fan Of New Book, 'The 101 Best Workouts Of All Time'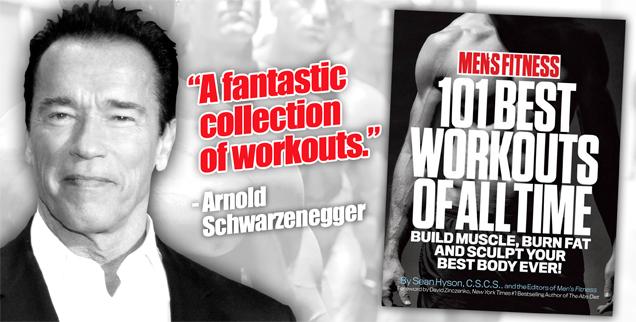 The holidays are over and many are looking to tone up, trim down, or get big and strong with the warm months looming in the not-too-distant future.
With that said, if you fall into any of those groups, your first tool in the battle of the bulge (or mission of making muscles) is The 101 Best Workouts of All Time, a new book that's emerged as a must-have for any fitness enthusiast presenting a variety of the very best ways to break a sweat.
Article continues below advertisement
"I love #80, The Best Upper Body Workout, Option A," the world's foremost face of fitness, Arnold Schwarzenegger, said of the book. "It reminds me of training I did my early bodybuilding days in Austria."
The book, penned by Men's Fitness editor Sean Hyson and the team at Men's Fitness, provides game plans for workouts on the road, at home and at the gym, for as few as eight minutes, or as many as 60.
"Simple programs like this have always worked and always will," Schwarzenegger said. "Sean has put together a fantastic collection of workouts."
For more info, check out the book's Amazon site and Facebook page.