Jake Steinfeld Cuts Ribbon At Launch Of West Virginia Fitness Center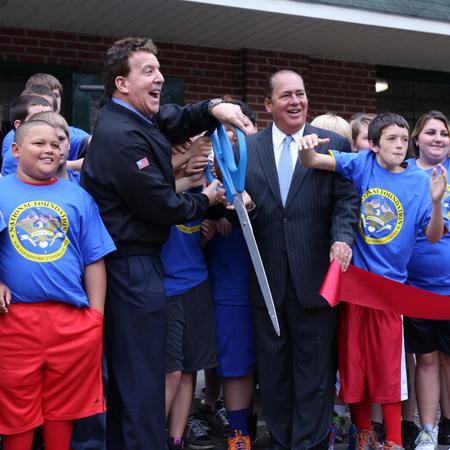 The great Jake Steinfeld continued his cross-country tour Thursday, stopping off in West Virginia for a ribbon-cutting on another Live Positively Fitness Center.
"By providing the schools with the tools, we can -- and will -- win the war on childhood obesity," the Body By Jake star, who was flanked by West Virginia Governor Earl Ray Tomblin during the ceremony, vowed to RadarOnline.com. "Motivating and inspiring students will help them excel beyond their wildest dreams."
Article continues below advertisement
The centers have sprouted up at six schools this week, after the specific institutions won a competition where the objective was to devise new ideas to attract the younger generation to the fitness lifestyle.
The Brooklyn-born strongman, who serves as chairman for the National Foundation for Governors' Fitness Councils, previously lent his celebrity to the launch of three other centers in Georgia earlier this week.
He says that the presence of one of the centers -- which are not funded by taxpayers or the state, but rather a public/private partnership, via the foundation -- will lead to positive results both in and out of the classroom.
"Not only will these students be healthier," Jake predicted, "but they'll be more confident, have greater self-esteem and ultimately achieve greater academic success."