'The Only Think I Can Think Of Is Their Kids': Ex-Costar Caroline Manzo Talks Joe & Teresa Giudice's Prison Sentences -- Will They Divorce?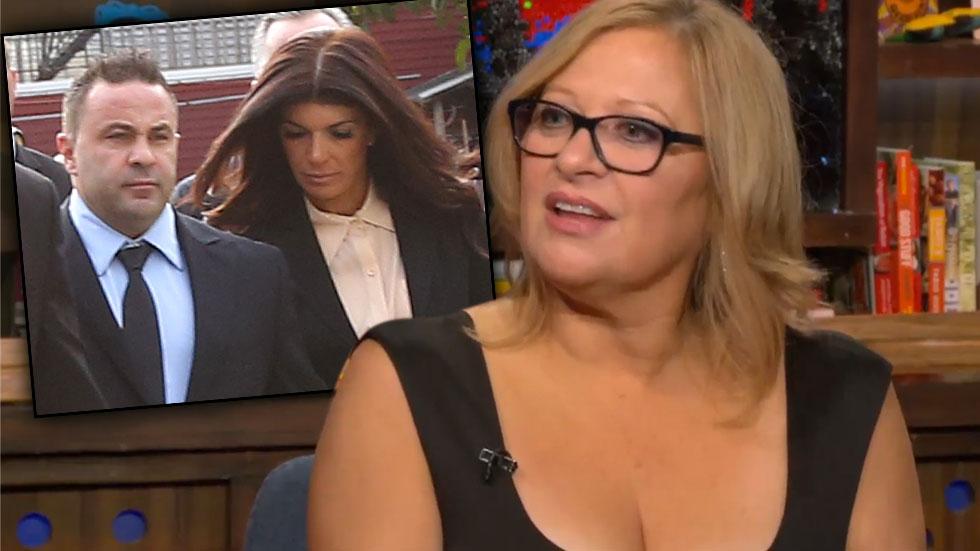 Teresa and Joe Giudice's Real Housewives of New Jersey co-star Caroline Manzo, appearing on Watch What Happens Live Sunday night, told host Andy Cohen she's "blown away" by the recent sentences handed down to the prison-bound reality TV couple, and is focused on the comfort of their four daughters moving forward.
"I'm blown away – I'm blown away by the whole thing," the outspoken reality star told Cohen, days after Joe received a 41-month sentence, and Teresa got a 15-month sentence in connection with their fraud convictions. "It's so much bigger than the Real Housewives, it's so much bigger than Bravo, it's just life-changing for these people and their children.
Article continues below advertisement
"The only think I can think of is their kids — God bless those kids — you know, it is what it is, and it happened and I can't wrap my head around it, it's a lot."
Asked about a 2009 question Joe Giudice asked — regarding if anyone who'd appeared on the show had been indicted — Manzo said, "You can't blame anything, you can't blame Bravo … things that happen in your life, you cannot blame anything for things to happen in your life, you know what I mean?
MORE ON:
Watch What Happens Live
"To me, it's just something that I hope that people, for the sake of the children, keep your opinions to yourself on social media and stuff like that and just understand, this is tragic, this is sad and I — I can't judge them and I won't judge them, because I don't know what happened."
Manzo emphasized that all she "can think of is those kids."
Watch the video on RadarOnline.com
When Cohen asked Manzo if she stood by an earlier prediction (broadcast on the show) that the Giudices were headed for possible incarceration and divorce as a result of their lifestyle, Manzo replied, "I am going to keep that to myself.
"Today's not the day for that, this week's not the week for that, I would be an awful person to speculate what is going on," the well-spoken reality star said. "This is not a time to laugh, this is not a time to say, 'I told you so' … this is bad, this is not funny."
She continued, "All is know is, what is saw go down this week is sad."
Watch What Happens Live airs Sunday thru Thursdays on Bravo at 11/10c; a special interview with the Giudices airs on Monday's edition.