Now Who's The Mean Girl? Katy Perry's Subliminal Tweet About 'Regina George' Likely A Counterpunch To Taylor Swift's 'Bad Blood' Jab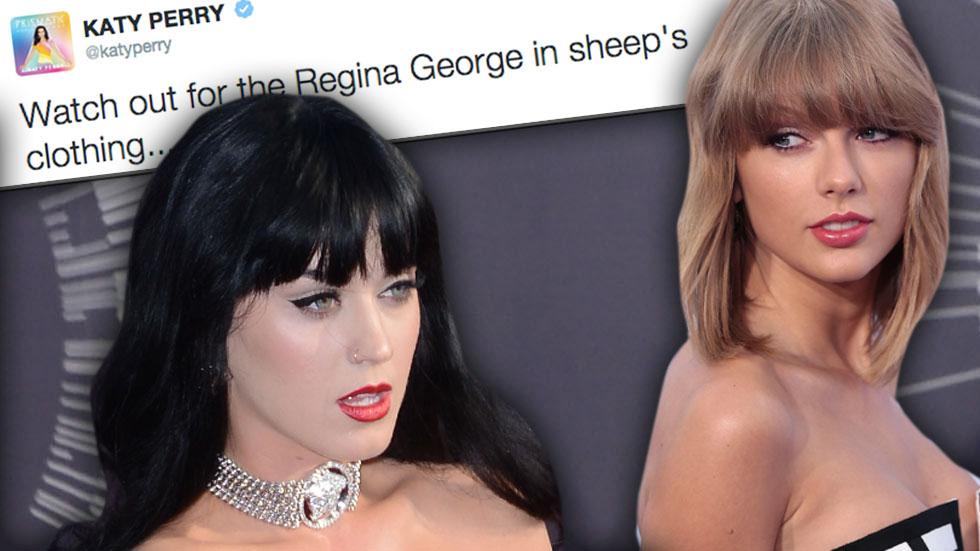 Don't count on a duet between Taylor Swift and Katy Perry anytime soon.
The "California Gurls" singer tweeted Tuesday, "Watch out for the Regina George in sheep's clothing," referring to Rachel McAdams' Mean Girls two-faced character, and implying that one of her friends might not be such a friend at all.
It didn't take long, however, for the online community to speculate about the identity of the mystery mean girl — and it looks like all signs are pointing to Perry's pop peer, Taylor Swift.
Article continues below advertisement
The rift started after Swift recently opened up to Rolling Stone about her new track "Bad Blood," saying the song was about a fellow celebrity who crossed her so many times, she figured they were "just straight-up enemies."
"For years, I was never sure if we were friends or not," Swift told the magazine of her nameless adversary, noting that said offender would regale her with remarks at award shows that would have her questioning, "Are we friends, or did she just give me the harshest insult of my life?"
Swift, famous for turning her failed romances into Platinum, clarified that the dispute "wasn't even about a guy," but rather "had to do with business," as her mystery antagonist "basically tried to sabotage an entire arena tour," by attempting to "hire a bunch of people out from under me."