Exclusive
No Summer Lovin': Taylor Swift's Bodyguards Harass Diners In Rhode Island Restaurant, Block Off Section Of Public Beach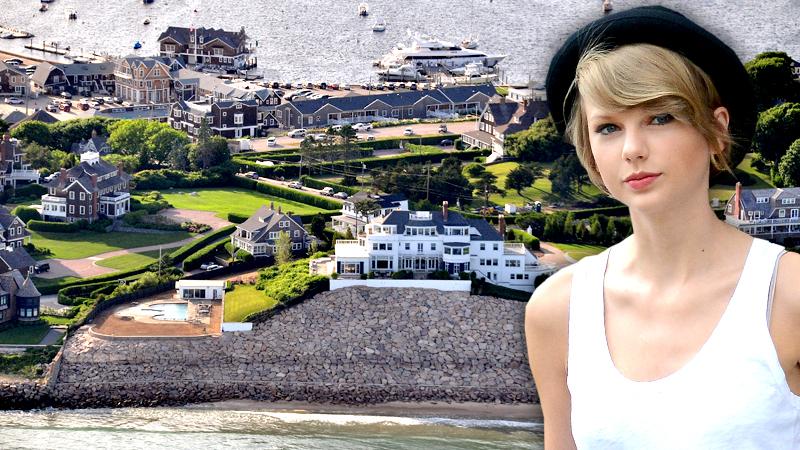 Article continues below advertisement
"Taylor and her two friends took a table toward the back of the restaurant," the onlooker says. "But her two security guards took a seat at the bar, eyeing the other diners like a hawk."
As the seemingly oblivious 24-year-old noshed on eggs covered in hot sauce with a young blond woman and a dark-haired man, her guards ran around the restaurant yelling at guests who touched their cell phones.
"My friend took her phone out of her purse, and one of the men screamed 'NO PICTURES!'" the diner says. "She was just checking the time!"
"There were no overzealous fans approaching her," the source continues. "Some people didn't notice she was there until the bodyguards created a scene."
Before leaving, the star, dressed in a blue-checkered dress and long cream sweater with a red bow in her hair, let the help cover the bill.
Later in the day, the insider claims, Swift's security blocked off a portion of Watch Hill beach so the singer could sun privately.
Article continues below advertisement
"They were turning people away," fumes the source. "It's a public beach!"
Swift has a history of creating chaos in her summer home community. Last May, Radar exclusively revealed that local residents were fuming when the star's security turned away beachgoers from a path near her property that connected to the public beach.
"Doesn't Taylor Swift have a tour to be on instead of invading my town and taking away my beach?" one Watch Hill dweller tweeted.
The following month, the singer's bodyguards were accused of harassing volunteers who were simply picking up garbage on the beach near her home.
And in December, neighbors were up in arms when Swift reportedly began building a sea wall on her property without a permit, ripping up the public beach in the process.