Taylor Swift Pens New Song 'Bad Blood' About Anonymous Female Enemy – Find Out Why!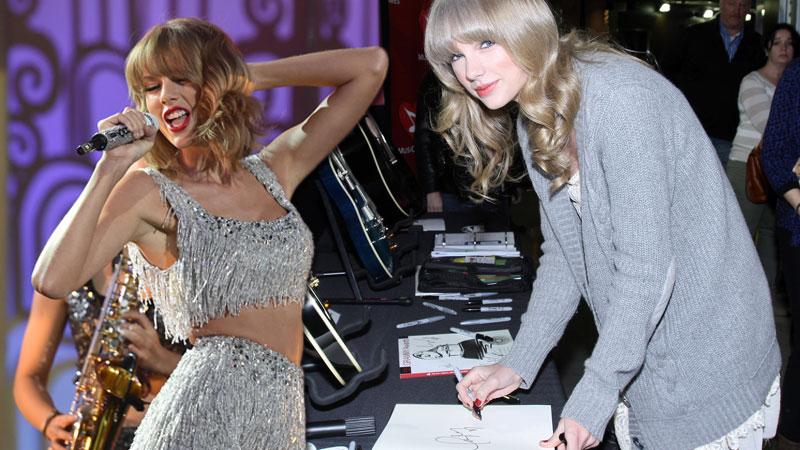 Despite seeming like she's every Hollywood starlet's BFF, Taylor Swift apparently has some "bad blood" with a female celebrity!
In a shocking twist of events, the feud with the unnamed celebrity isn't even about a guy, the pop superstar revealed to Rolling Stone. Instead of confronting her female arch-nemesis, Swift did what she normally does – writes a scathing song about it. Appropriately titled "Bad Blood," the song will appear on the "Shake It Off" singer's upcoming album, 1989.
Article continues below advertisement
But before Swift penned her hate-inspired song, she actually didn't know if she was friends or frenemies with the anonymous hater!
"For years, I was never sure if we were friends or not," Swift, 24, admitted to the magazine. "She would come up to me at awards shows and say something and walk away, and I would think, 'Are we friends, or did she just give me the harshest insult of my life?'
"Then last year she did something so horrible. I was like, 'Oh, we're just straight-up enemies.' And it wasn't even about a guy!"
But Swift, ever careful with her word choice, never revealed in her interview whom the "enemy" is. Instead, she merely described the dramatic events that caused her to realize that they weren't pals.
"It had to do with business," Swift hinted. "She basically tried to sabotage an entire arena tour. She tried to hire a bunch of people out from under me."
But Swift, who tells the mag that she's "surprisingly non-confrontational," never approached the mystery woman to talk about their issues.
"…You would not believe how much I hate conflict. So now I have to avoid her. It's awkward, and I don't like it," she revealed.
Whom do you think Taylor Swift is talking about? Tell us your guesses in the comments below!