A Swift Move To The Big Screen! Singer Taylor Swift 'Badly Wants To Be A Movie Star'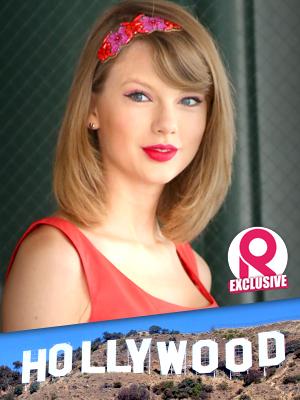 Taylor Swift is determined to become a movie star, RadarOnline.com has exclusively learned.
The Red country singer rules the music world but she's now eager to be taken seriously in another area of show business, a source told Radar.
"Taylor badly wants to be a movie star," the source revealed. "She's determined to prove herself as an actress and not simply a singer who dabbles in movies."
Although Swift, 24, has made cameos in concert films and shared a hot kiss with Taylor Lautner (who briefly dated her) in a small role as a high school student in the 2010 movie Valentine's Day, she's yet to make an impact on the big screen.
Article continues below advertisement
This August, Swift will also act in the science fiction film The Giver, opposite Academy Award winner Meryl Streep.
"Taylor is now under pressure to make her first major movie deal," the source said. "She has been offered the moon, technically, about $10 million, to make a concert film in the vein of Justin Bieber and Katy Perry's efforts, but Taylor's policy of aiming high has put the kibosh on those plans.
"She doesn't just want to be known as a singer, so she's trying to get aligned with some high profile, non-musical productions."
Two years ago, Swift said she'd been reading scripts "under the radar" for a long time.
She said at the time: "When I look at acting careers that I really admire, I see that it's been a precise decision-making process for these people.
"They make decisions based on what they love and they do only the things that they are passionate about. They play only characters that they can't stop thinking about."
According to the source, the fact that Swift's videos — and even her soft drink commercials — are shot by top directors, is by design.
"The directors are asked to encourage and nurture Taylor's acting skills above all else," the source said. "Still, the clock is ticking and Taylor's reps are intent on having her locked into a potential breakout role before the end of summer.
"She's finished her new album and is now busy reading every script she can get her hands on."