Courtroom Couture Clash: O.C. Clothing Line Sues Taylor Swift For Her 'Lucky 13' Clothing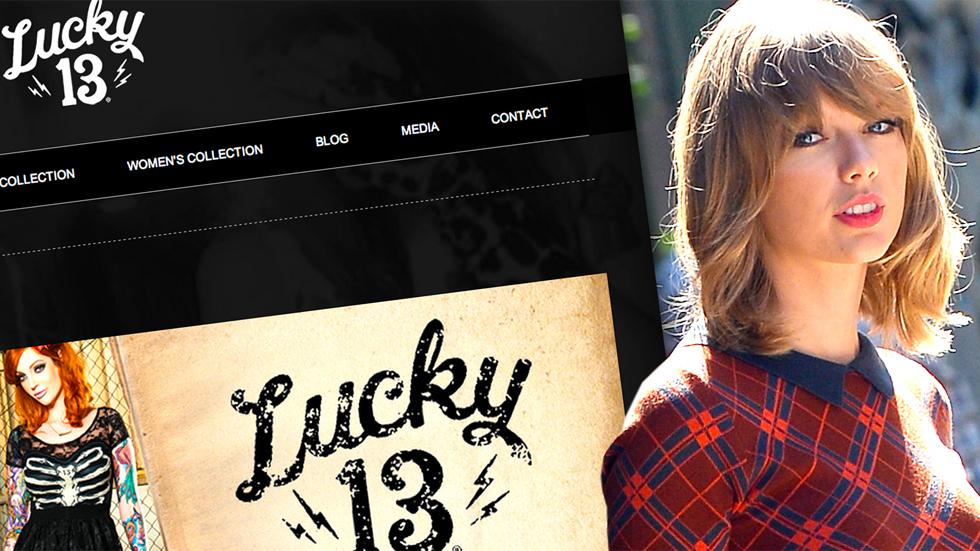 Taylor Swift has been sued by the owner of Lucky 13 clothes, who claims that the award-winning crooner has borrowed too liberally from his fashion line — even going so far as to use its' signature phrase Lucky 13 — and creating a disoriented marketplace as a result.
Lucky 13 owner Robert Kloetzly, who's operated the business since 1991, petitioned an Orange County, Calif. court for financial damages, and an order to stop the "I Knew You Were Trouble" singer from marketing under the "Lucky 13" moniker via her website, in his copyright infringement suit.
Article continues below advertisement
"Swift's conduct has been and will continue to be malicious, fraudulent, deliberate, willful, intentional, and in disregard of Plaintiffs' intellectual property rights," Kloetzly stated in his suit, noting that the singer's image "undeniably and squarely fits within the exact same consumer demographic" as his target audience.
Read the docs on RadarOnline.com
He noted that the singer's demonstrated to be adroit in the business spectrum, as she "knows, understands and substantially profits from her carefully cultivated and meticulously managed trademarks and brand, image, and other intellectual property."
Another gripe is that Swift has involved American Greetings Corp. in her Lucky 13 fold, further confusing the marketplace.
The "We Will Never Ever Get Back Together" singer, who began the brand in March 2012, responded in court docs filed Aug. 4.
In them, she said that the suit is a smokescreen for the free publicity gained as a result of the coverage of the celebrity court drama. The songstress, who appears in the new film The Giver, said that Kloetzly's company has a target audience aimed at the rock and rockabilly scene in Orange County, Calif., leaving little room for confusion between the two brands.
She added that Kloetzly's "failure to cure his company's pleading deficiencies by alleging any facts to amplify their assertion of likelihood of confusion is readily apparent," and asked the court to dismiss all the charges with no financial penalty to her.