'RHOC' Star Tamra Barney Judge Rips 'Jealous' Lizzie Rovsek: She's 'Insanely Obsessed' With Me — And Her Marriage Is 'On The Rocks!'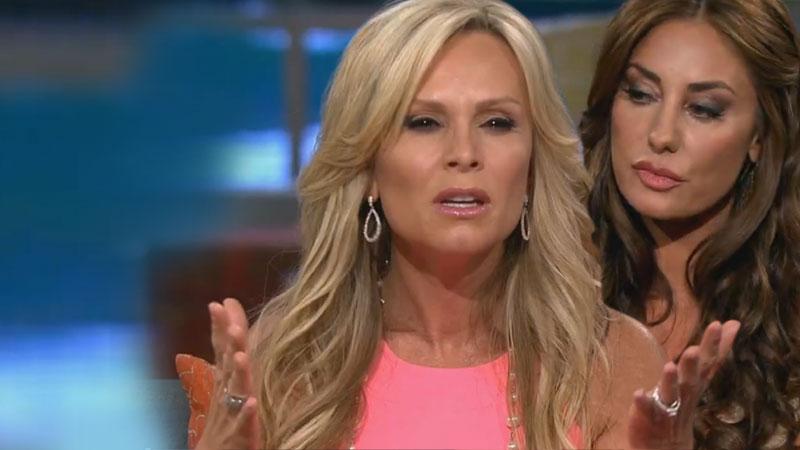 Article continues below advertisement
But that didn't stop her from letting loose on her cast mates yet again! After quick tributes to "sweet" Shannon Beador, her "friend" Vicki Gunvalson, and "amazing" Heather Dubrow, Judge opened fire on frenemy Rovsek.
"Her unhealthy obsession and lies about me are rather weird," Judge wrote. "…The lies that come out of her mouth are so twisted and down right scary. I honestly thought she was a nice person until I witnessed her drunk and talking very crass about my husband because I did not make it to her birthday party."
Referencing Rovsek's comment that Judge's husband Eddie wanted to sleep with her, Judge wrote, "I was even willing to forgive her for her comment about Eddie because I knew she was drunk. We all had a lot to drink that night. But her inability to apologize or even admit she said it was mind-blowing to me."
"Now I am a bully …" Judge continued. "Good lord!"
Rovsek had bashed "mean girl" Judge for mocking her big boobs, but Judge said, "What makes me laugh is that she told me at Shannon's holiday party and admitted to Andy at the reunion that she has 300CC breast implants. So if you are so self-conscious of your big breast sic and mentally damaged about being bullied, why would you make your breast sic bigger? Another one of her contradictions and cries for attention!"
Article continues below advertisement
"After reading her last few blogs, it became very clear to me that she is insanely obsessed with my life," she continued. "I have never had another person pay so much attention to my every move and twist every conversation we have ever had to make me look bad. …The only thing I can think of is she sees my success and my happy marriage and she's jealous?"
"She told me herself that her marriage has been on the rocks for years," Judge claimed. "And she was very vocal this season that her husband doesn't satisfy her needs in bed."
As RadarOnline.com has reported, both Judge and Rovsek are on the chopping block with Bravo, and not expected to be back next season.
Will you be sad to see them go?