Is The Feud Over? Lizzie Rovsek And Vicki Gunvalson 'Forgive' Tamra Barney – But Rovsek Doesn't 'Foresee A Friendship'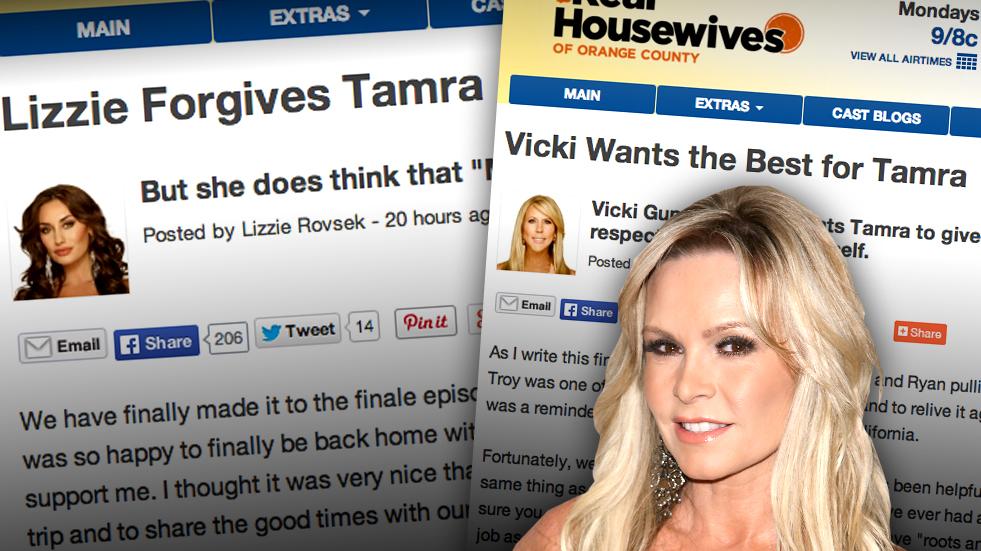 Although Tamra Barney has caused some serious drama throughout the ninth season of The Real Housewives of Orange County, it looks like Lizzie Rovsek and Vicki Gunvalson are willing to move past the drama with their co-star.
After the explosive season nine finale aired, some of the reality TV show's stars took to their blogs to express their feelings about the ending – and some of their words may surprise you.
Article continues below advertisement
As RadarOnline.com previously reported, Barney told Rovsek, "Listen, Kentucky Fried T*tties, my husband would never touch you with a 10-foot pole." The kill, shag, marry game was still an issue throughout the episode, but after reflecting off-screen, Rovsek took the higher road.
"I am sorry for what Tamra is going through in her life; I just don't think it's a good excuse to hurt other people," she writes. "We all go through hard times."
Not only did the reality star feel badly for her "friend," she has also decided to do the unthinkable – forgive her - but not without a cost.
"However there comes a time when you damage a relationship beyond repair and the things that have happened in the past few weeks are reprehensible," Rovsek writes. "Will I forgive Tamra? Yes and I have. However, I don't foresee a friendship with her."
Although Rovsek has forgiven her, Barney has also stung others throughout the season, including Gunvalson. Barney has disapproved of Gunvalson's boyfriend, Brooks Ayers, throughout the show, and has never made a secret of it. All that Gunvalson requests is that Barney keep her mouth shut.
Article continues below advertisement
"As I said -- I don't really care if Tamra likes Brooks or supports our relationship -- but I do ask that she keep the bad mouthing to herself," Gunvalson writes.
Although Gunvalson hasn't completely written Barney off like Rovsek has, she still has some words of advice for her co-star.
"I personally think Tamra steps way too much into people's business and I'm hopeful that she has learned a lesson," she writes. "You can't go around talking crap on people and expect them not to compare notes."
But, as RadarOnline.com has previously reported, Barney's presence next season is still up in the air.
Do you think Rovsek's and Gunvalson's forgiveness is a result of Barney's potential absence from next season? Sound off in the comments below...