Lizzie Rovsek Reveals Plans For Baby Number Three: 'We're Going To Have Another One!'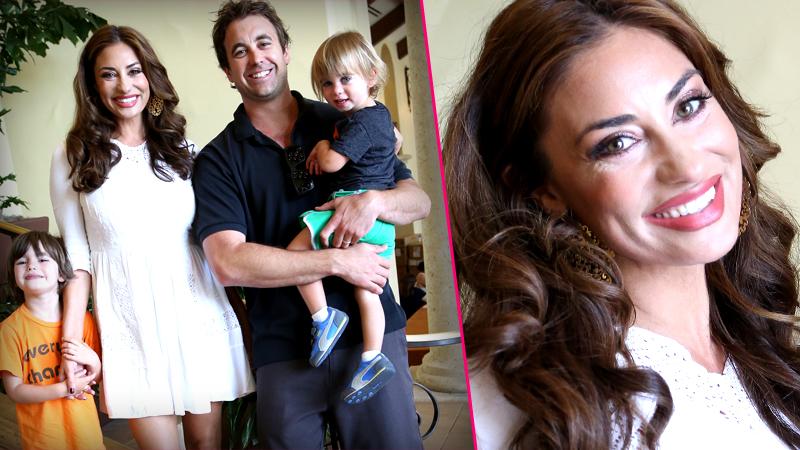 The Real Housewives of Orange County star Lizzie Rovsek already has two little boys with her husband Christian Rovsek, and a successful bikini line, Sun Kitten Swimwear. But despite the couple's bitter fight on last night's episode — which she has called their "worst fight" ever — Rovsek exclusively tells RadarOnline.com that they're taking on a new project — another baby!
On last night's episode, Rovsek was seen screaming at her husband, "Christian, why don't you get a boner once a week — f*ck you!" She wrote on Facebook today, "You didn't get to see the whole night. My husband really upset me. So much more to all of this ... But no excuse. Worst fight we ever had."
Article continues below advertisement
But despite the on-air drama, she says that behind closed doors they're fine — and ready for more kids.
"We're going to try next year," Rovsek told RadarOnline.com. "We definitely want more babies."
In 2014, the timing was off, with filming for the show and the stress of running their businesses.
"The timing right now with the show and with my company, his company and the kids, our schedule and our life has really done a 180," she said. "Our life, this time last year was a lot quieter."
So Rovsek is in no rush to expand the family, even though it is in the cards.
"I really want to enjoy my boys, so I feel that waiting a bit longer would give us more time to do that," she said. "To throw another baby in there and have it be complete chaos right now, I don't think that's the best decision, so I'm going to wait a little bit and we're definitely going to do it. We're going to have another one."
Article continues below advertisement
While Rovsek already has two boys, she said she would not consider doing gender selection to get a little girl.
"We're going to do it all natural," she said. "If I had three boys, I would totally dig it. I love having the boys. And as time has gone on, I've loved having the boys more and more and more. And I'm starting to think, maybe I don't need that little girl, I like the boys. I'm starting to love all the little boys."
On last night's episode, she and Christian clashed, but he told RadarOnline.com he's totally on board with expanding the family.
"We've always said we want to have three," he said. "As Lizzie said on the show, Lizzie comes from a family of three kids, I come from a family of three kids, that's always been there."
He also agreed that waiting is the best option as they never planned the first two pregnancies.
"We never planned our first two," he said. "We got married and Lizzie was pregnant within a month and we had two kids in two years. I guess the best way of saying it is that we're planning a little bit."
Do you think they should go for it and have another? Let us know in the comments!