Robert Downey Jr.'s Son Indio Sentenced To Rehab After Guilty Plea To Cocaine Charges, With Concerned Father Looking On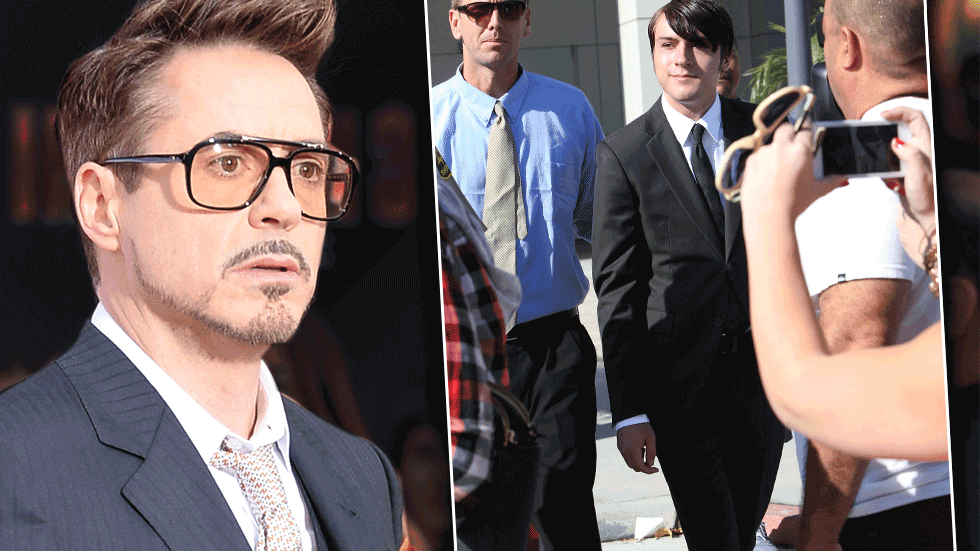 Robert Downey Jr.'s son Indio pleaded guilty to possession of cocaine charges in LAX Airport Court Friday, receiving a sentence of mandatory enrollment in a drug rehab program.
As his father watched on from the courtroom pews, Indio Downey was gracious to Superior Court Judge Keith L. Schwartz following the sentencing in the June incident, which occurred in West Hollywood.
"I appreciate this opportunity and I intend to make the most of it," said the 21-year-old, who previously entered rehab for issues connected to prescription pills. After already serving 70 days in a facility, Indio would remain in the program for an additional 20 days, his attorney Blair Berk said. Should Indio stay out of trouble for 18 months, the conviction will be removed from his record, according to Berk.
Article continues below advertisement
Schwartz warned the actor's son to be more judicious in who he chooses to keep company with, a suggestion Downey was seen nodding along with. The judge advised Indio to look to his father — who rebounded from drug and jail hell to be one of Hollywood's biggest earners — for guidance, as it relates to staying clean.
The Chaplin star said following the hearing, "We're grateful to the Sheriff's Department for their intervention, and believe Indio can be another recovery success story instead of a cautionary tale."
MORE ON:
Robert Downey Jr.
The 49-year-old actor opened up to the new issue of Vanity Fair about the drug issues swirling around his son (whose mother is Downey's son ex-wife Deborah Falconer).
"He's his mother's son and he's my son, and he's come up the chasm much quicker than we did, but that's typical in the Information Age; things get accelerated," he said. "Pick a dysfunction and it's a family problem."