Can Iron Man Make This Happen? Robert Downey Jr. Pushes To Get Disgraced Pal Mel Gibson Cast in Avengers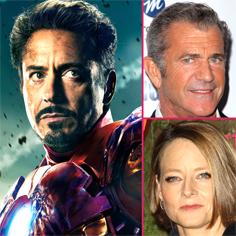 Robert Downey Jr. has a will of iron when it comes to his friends.The Iron Man star is raising eyebrows in Hollywood with his attempt to get Mel Gibson -- known for his anti-Semitic rant and other scandalous behavior--cast in an Avengers movie, RadarOnline.com has exclusively learned.
Downey has a lucrative five year deal with Marvel Studios that will see him make two more Avengers movies in the next four years as well as consult on future parts of the Iron Man franchise, a source told Radar.
Article continues below advertisement
"But Robert is raising eyebrows with his efforts on behalf of his longtime best pals Jodie Foster and Mel Gibson," the source revealed.
"He wants to bring Mel and Jodie into the Marvel universe, preferably in one of the Avengers films. It's been a longtime dream of Robert's to help Mel and Jodie reach similar big box office heights like the ones he's achieved in recent years."
While the idea of the popular, ultra-professional, Oscar winning Foster joining the superhero world would no problem -- especially because she recently starred in the sci-fi movie Elysium -- the source noted, "Mel is a far different story."
Gibson has had a hard time with his Hollywood peers ever since the circumstances surrounding his 2006 DUI arrest became public. According to the arrest report, Gibson allegedly shouted at the police officer, "F***ing Jews...The Jews are responsible for all the wars in the world."
The source said, "Marvel is run by one of the richest and most prominent Israeli businessmen in Hollywood, and you can be sure even if Robert got down on his knees and begged, there's no place for Mel in the Marvel films."
Article continues below advertisement
But Foster and Downey have stayed close friends with the controversial The Passion of the Christ producer/director.
MEL AUDIO TAPE #1: Mel's Racist Rant
In, 2011, Downey, who has had his own substance abuse issues in the past, chose Gibson to give him his life achievement award onstage at the American Cinemateque Awards.
Downey floated the idea of Gibson to play the U.S. President in the recent Iron Man 3 "but that idea was shot down," the source said.
Still, Downey hasn't given up, according to the source.
"Robert is very big into working with his friends. Ashley Hamilton and Iron Man 3 director Shane Black both credit him with making the final push to get them hired."