Great But Not Modest! Robert Downey Jr. Brags He Is 'One Of Best' Actors, 'Would Be Shocked' Not To Win Oscar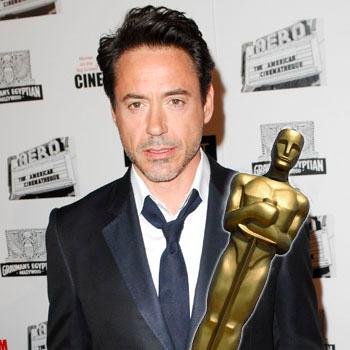 Robert Downey Jr. doesn't have any issues when it comes to self-esteem.
The Iron Man star, who publicly battled his demons and rose back to the top in the last few years, not only brags about his $50 million paycheck for The Avengers in the May 2013 issue of GQ, but also has no problem touting himself as one of the best living actors and admitting he would be shocked if he didn't win an Oscar in the near future!
Article continues below advertisement
"I'm probably one of the best," Downey admits when asked how talented he is by the magazine, seemingly channeling Tony Stark, the brash and brilliant industrialist who becomes Iron Man.
"But it's not that big of a deal. It's not like this is the greatest swath or generation of actors that has ever come down the pike," he adds.
Later on in the interview, he is asked how much he would like to win an Academy Award.
"I couldn't care less," he claims.
But not because he's not confident about his chances!
"Well, I know it's going to happen.
"That's just a fact."
After asked if he is certain, he responds:
"I, personally, would be shocked if we went to the end of the tape now and I didn't have at least one."
When asked why, he responded: "Because it just doesn't make sense. That's why I don't mind showing up and watching everybody else get them."
Winning an Oscar is not something that Downey covets, he reveals.
"You know, honestly...I don't care. I used to think that I cared, and I couldn't care less," he says. "Now, I'm not saying I wouldn't get a little choked up, but it is amazing to see how people are literally hyperventilating when they get up there, because they have such a attachment to this outcome. I mean, it's not like we're at the f***ing Olympics or something."