Robert Downey Jr.'s 20-Year-Old Seeks Rehab For Prescription Pain Meds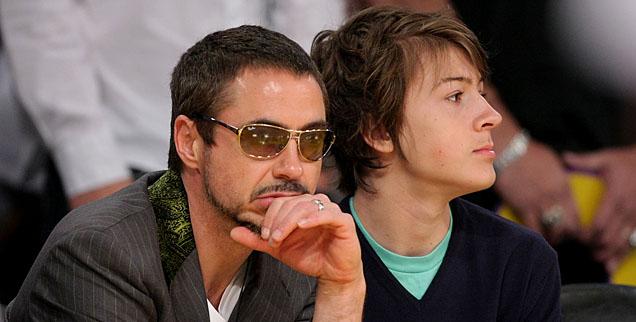 Robert Downey Jr. has faced his fair share of demons when it comes to drugs, and now it's being reported that his 20-year-old son, Indio, is currently undergoing rehab treatment to help with prescription pain medication.
Indio's mother and Downey's ex-wife, Deborah Falconer, confirmed her son's treatment to the National Enquirer but noted, "He was not addicted. He was taking one pill a day." She said Indio in receiving "holistic, natural and orthomolecular" therapy.
Article continues below advertisement
"We are hoping to do it the homeopathic way rather than with medications," she said.
"He's being treated with vitamin supplements and organic foods."
Downey married Falconer in 1992, but she left him in 1996 and took Indio with her after he was arrested for drug possession, DUI and possession of a concealed weapon.
More arrests and rehab stints followed for Downey before he finally landed in state prison where he spent a year behind bars — was arrested twice more, but sobered up for good in 2001 and has since remarried and had son Exton in 2012 with wife Susan Levin.
"This is a nightmare for Robert because his boy has never been in trouble before," a source told the Enquirer.
"He's praying for Indio's recovery."
Calls from RadarOnline.com to Downey's rep for comment were unreturned.