Robert Downey Jr.'s Little Avenger! First Photos Of Actor's Baby Boy Exton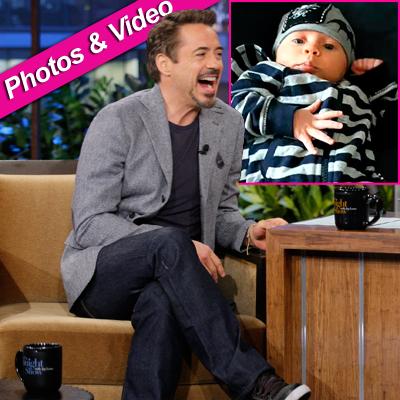 There was not a prouder father on show Thursday night as Robert Downey Jr. gushed about his eight-week-old son Exton Elias and gave the world its first glimpse of his boy.
The Avengers actor risked the wrath of his wife Susan, 38, by showing off pictures of his son on The Tonight Show With Jay Leno.
Looking cute as a button as he stared into the camera, the images show the tot is the spitting image of his Hollywood hunk father.
Article continues below advertisement
Robert was initially reticent about showing the late night talk show host pictures of his boy, telling Jay that he would "get in huge trouble."
"I have to exercise just a little restraint. I'm sorry. I mean… if you want me to, I will."
And like any doting dad he couldn't help coo over the pictures of his second child.
"He's so darn cute, isn't he?" the 47-year-old Oscar nominated actor laughed. "You get one, that's it. Unless of course you want to see the other one."
The second image shows Susan tenderly kissing her son's head as he sleeps and wears a gold chain with Exton's name etched onto it.
Robert also has an 18-year-old son, Indio, from his first marriage to Deborah Falconer.
The actor's new movie The Avengers, co-starring Scarlett Johansson and Samuel L. Jackson, opens in theaters now.
RELATED STORIES:
Bryce Dallas Howard Gives Birth To Baby Girl
Jessica Simpson Designing A Maternity Line
Stop The Press! Shayne Lamas Richie Is A Hot Momma Just 7 Weeks After Giving Birth