Exclusive
Number One Fan! 'Couples Therapy' All Star Farrah Abraham Says, 'I Love Myself More Than I Ever Have,' As She Dishes On Reunion Special, Feuds & Teen Mom Firing In An Exclusive Interview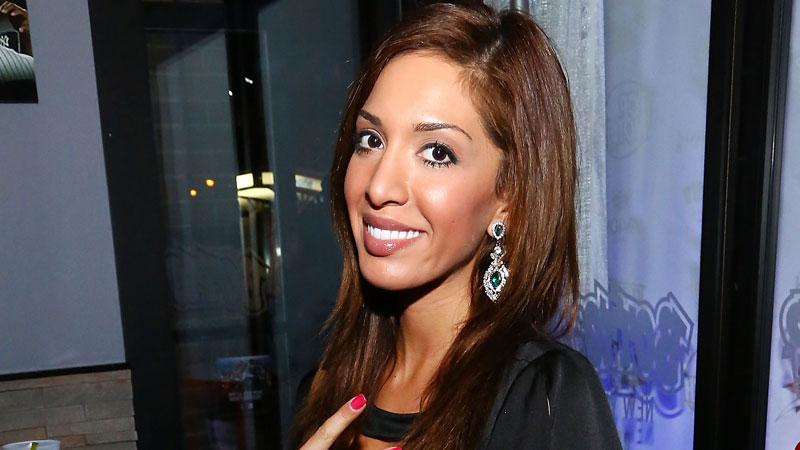 Farrah Abraham made Couples Therapy history when she showed up to film without a significant other. And now, as she prepares to appear on VH1's Couples Therapy All-Star Reunion, the reality star tells RadarOnline.com exclusively that she's still her own biggest fan: "I love myself more than I ever have!" Abraham gushed in an exclusive interview — and she says she owes it all to her time on the show .
Article continues below advertisement
"I had an amazing experience and a lot of growth personally with Dr. Jenn, and it was a good thing for me to come back and share where I am," the Celebrity Sex Tape author said of appearing on tonight's reunion special. "Not everything is perfect and I didn't have somebody in my life or anything, but I do know that I'm making the right steps."
One sign of that new mature outlook? As RadarOnline.com has reported, the single mother and her Teen Mom co-stars Catelynn Lowell and Tyler Baltierra ended their extremely public feud during the reunion special, as Dr. Jenn Berman helped the former best friends work out their differences.
"When we fight and bicker we don't really know how to speak and be polite to each other to work through our problems," the single mother of 5-year-old Sophia said. "It ended with a hug and we're happy. That is how it should be and I always want it to be like that."
But Dr. Jenn couldn't resolve all issues. In a promo for the special, Abraham is seen battling it out with another cast member, Tiny Hailey, yelling "who the f*ck are you!" as Hailey fired back, "You shut the f*ck up before you get that wig snatched off!"
Article continues below advertisement
When asked about the altercation Abraham replied, "People definitely have their own struggles and I think with the age difference and other substance issues we all can't get along. It's just hard to deal with others sometimes."
Off camera, Abraham definitely has had her issues getting along with her Teen Mom co-stars. But when asked about her ongoing Twitter feud with Teen Mom 2 star Jenelle Evans, Abraham insisted, "I don't respond to her… She's not fighting with me, she's fighting with herself. I don't have time for that."
Indeed, Abraham seems to have left the Teen Mom universe for good. While Maci Bookout, Amber Portwood and Catelynn Lowell signed on for a new season of the show, Abraham was conspicuously absent from the casting list.
"I think I did my job to the utmost in showing a struggle and overcoming it and that's why I was a part of that show," the 22-year-old said. "I think I did that and I'm no longer a teen mom and I'm no longer struggling… I am moving on and I think everyone is happier and we're all in great places."
Article continues below advertisement
Although she won't be receiving a paycheck for the hit MTV show, the reality star exclusively told RadarOnline.com that she was offered a $544,000 agreement to strip at the Palazio Gentleman's Club in Austin, Texas.
"I am now very secure with being single and I love myself more than I ever have and I think self love is more important right now for my own sake," she insisted.
And her time on VH1 is what has brought her to this point.
"Therapy can really make relationships better," she explained. "Even though you're by yourself, it makes relationships better for the greater good and there is just empowering stories that other people will watch."
Couples Therapy All-Star Reunion airs tonight at 9/8c.