Wine Incident, Redux: Bill Hader & Kristen Wiig Reenact Infamous 'RHONY' Berkshires Blowup Between Ramona Singer & Kristen Taekman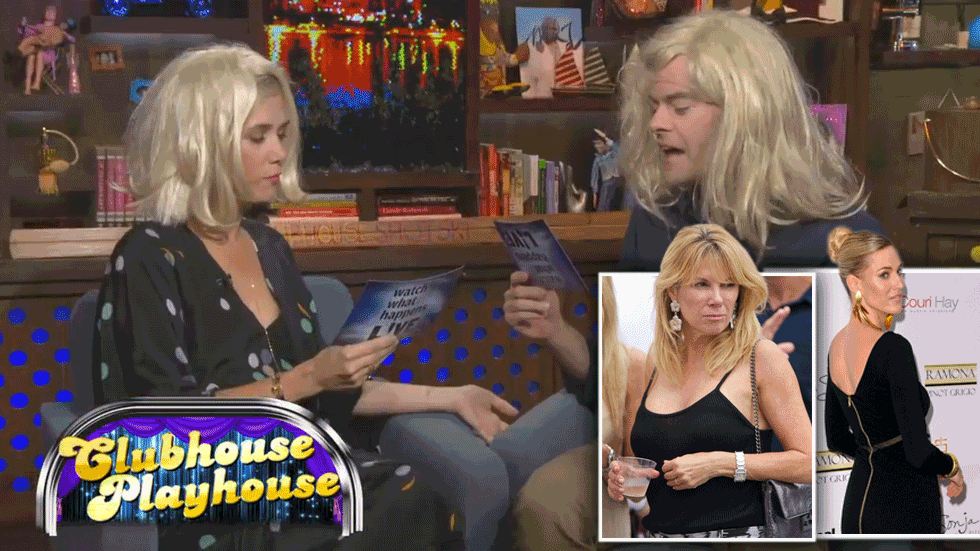 Live from New York it's … the Real Housewives?
Not exactly, but hysterical all the same, as Saturday Night Live alums Kristen Wiig and Bill Hader, appearing on Watch What Happens Live Thursday, reenacted the huge Berkshires blow-up from The Real Housewives of New York City between Ramona Singer and Kristen Taekman.
Prodded by Andy Cohen, Hader, 36, and Wiig, 41, donned wigs for their interpretative performance of the incident, in which Ramona tossed a wine glass at her rival.
Article continues below advertisement
"You don't hurl things at peoples' faces, Ramona — how would you feel if I had to get stitches?!?" Hader asked Wiig, who affected a perfect accent in saying, "I feel horrible … people don't throw water at me.
"I told you today … DON'T — THROW — WATER — AT — ME!"
As Cohen snickered, Wiig ran away with the sketch, bellowing, "Who are you to get me wet? WHO ARE YOU to get me wet!"
Wiig also delivered a humorous faux tagline, saying, "Some people say elephants remember everything. Well, I don't."
Watch the video on RadarOnline.com
Wiig and Hader also share the screen in the new film The Skeleton Twins, in theaters this weekend; Watch What Happens Live airs Sunday thru Thursdays on Bravo at 11/10c.