Put Down The Pinot! Ramona Singer 'Needs Serious Anger Management,' Blasts Concerned 'RHONY' Co-Stars After Vicious Wine Glass Throwing Incident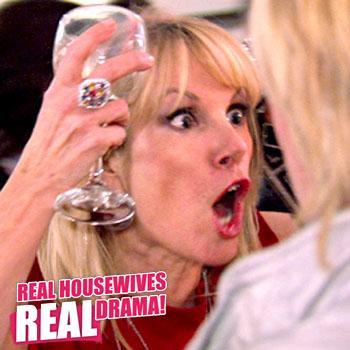 Real Housewives of New York City star Ramona Singer started on blood bath on the latest episode when she tossed a wine glass right at Kristen Taekman's face.
Her errant actions have come under extreme criticism from her co-stars, who are blasting her for flying off the handle.
"It is not ok to throw a glass at anyone! She drew blood, my blood for God's sake!" Taekman wrote on her Bravo blog.
"My two and five year old know better than to throw anything at someone!"
Article continues below advertisement
Viewers witnessed Singer explode when Taekman playfully splashed her with water, while they were canoeing in the Berkshires. After throwing her entire wine glass, Singer bolted, leaving Taekman bleeding in the water.
"In all honesty, it is just not OK and can't be tolerated. She needs some serious anger management. What happened to the days of having a conversation or some level of communication," Taekman wrote.
Reliving the day's events, Heather Thomson thought Singer's behavior was inexcusable.
"There is Ramona, the sh-- stirrer grand-master, at it again," Thomson wrote on her official blog.
"I love how Ramona blames the Berkshires on her own behavior. When you hurt someone you apologize and when you misbehave, or you f*ck up, you take responsibility for your actions."
Singer has since apologized for her actions on Twitter.
"My most embarrassing and vulnerable moment is on tonight's #RHONY episode. Never in a million years did I think the glass would hit Kristen," she admitted.
Do you think Singer is truly sorry for the brouhaha? Tell us below.