Tyra Banks Imitates Lindsay Lohan & Reveals Cause Behind Hard Feelings With Victoria's Secret On Watch What Happens Live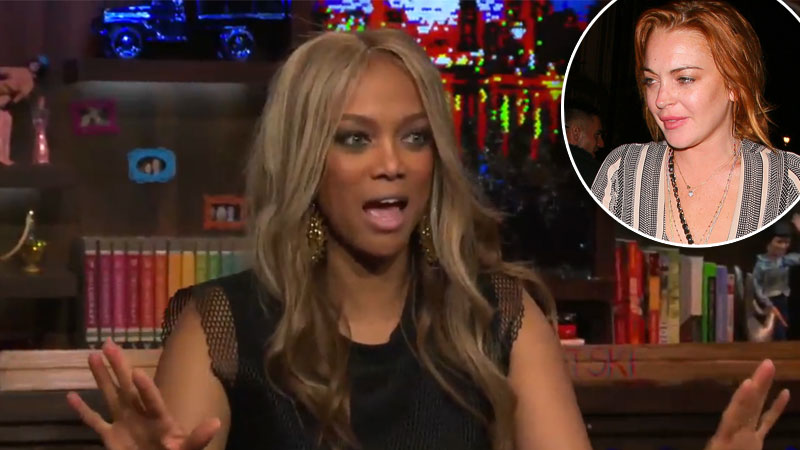 Tyra Banks, appearing on Watch What Happens Live Tuesday, explained her reluctance to partake in a reunion of the Victoria's Secret angels, as well as sharing her very humorous impression of one-time co-star Lindsay Lohan.
The supermodel, sitting in Andy Cohen's clubhouse alongside Dancing with the Stars regular Derek Hough, demurred when she was asked by a caller if the red-headed wild child would be in the cast of the upcoming sequel to Life-Size, the 2000 made-for-TV movie in which Banks — playing a live, Barbie-esque doll named "Eve" — shared the screen with a 11-year-old LiLo.
Article continues below advertisement
"Were doing Life Size 2," Banks told Cohen. "I'm executive producing it, and I'm in the process of writing. And right now, we haven't spoken to Lindsay, but you never know, she's a woman now."
Affecting a deep voice, Banks delivered a funny impression of the Lohan's smoker's pipes.
"She'd be like, 'Hey Eve doll, you used to be my Barbie and I'm over you!' She's a woman now!"
Banks was also non-committal when she was asked if she'd ever consider a Victoria's Secret reunion with her original Angels colleagues, a group that includes Heidi Klum and Gisele Bündchen.
"We're the O.G. original Angels — that was invented on us!" she boasted.
Watch the video on RadarOnline.com:
The 40-year-old beauty said when she was previously asked to participate in one, she declined, "because I was trying to be taken seriously as a talk show host and as an executive producer and as a businesswoman.
"So now I have to get naked, in my drawers, and go down the runway? I don't know."
Watch the video on RadarOnline.com:
There was one other sticking point that rubbed the stunning Banks the wrong way.
"The president of Victoria's Secret had promised me a lifetime supply of Victoria's Secret products even after I decided to leave the company," Banks recalled. "But once I left, he only let me have it for a year. So I have a bone to pick."
"Woo," Andy replied with the timely snap.
Watch What Happens Live airs on Bravo Sundays thru Thursday at 11/10c.