Even More Stars Who Look Great Without Makeup - And More Who Don't!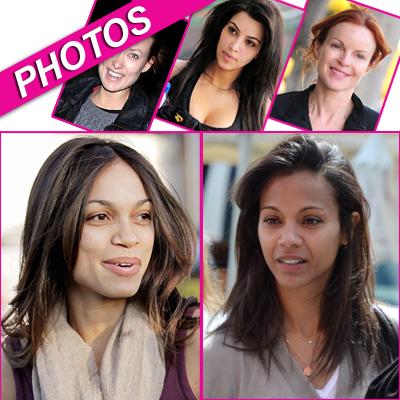 Are your favorite stars natural beauties, or do they owe their looks to their experienced makeup artists?
Hollywood's hottest celebrities are usually photographed with faces full of makeup, but every now and then they get caught off guard showing off their natural side. RadarOnline.com has even more photos of stars who look great without makeup and even more who don't, in a special, makeup-free feature.
Article continues below advertisement
Kim Kardashian is one of reality television's most devoted glamazons, always dressing to the nines and perfectly painting her face with the best makeup money can buy, but you won't believe what Kim looks like when she wakes up in the morning!
Nicollette Sheridan may have been one of the sexiest Desperate Housewives on Wisteria Lane, but how does she stack up against her former cast mate Marcia Cross, when it comes to her naked face?
Former models Janice Dickinson and Tyra Banks aren't always camera ready! You will be shocked to see what the two sex symbols look like without loads of makeup.
What other stars look great without makeup, and who should wear it all the time? Find out by clicking here.