Face Faux Pas! The 10 Biggest Celebrity Makeup Mishaps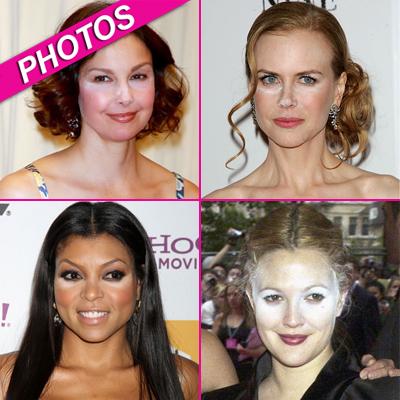 Makeup is supposed to make you look better – not worse!
Hollywood's hottest stars may fork over massive amounts of money to hire the top makeup artists in the business to get them glam and gorgeous for the red carpet, but sometimes they slip-up! From powerfully powdered and too-light eyeliner to incredibly eccentric eye makeup, RadarOnline.com has photos of the 10 biggest makeup disasters of all times.
Article continues below advertisement
Ashley Judd's puffy cheek controversy wasn't her only face faux pas! The actress hit a book signing for her shocking memoir in 2011, with light powder plaguing her pretty face.
Concealer is supposed to detract attention away from your under-eye dark spots, but Eva Longoria experienced the opposite when she stepped out with white spots under her eyes.
Nicole Kidman has reportedly gone to great lengths to keep her face looking flawless and wrinkle-free, but the Australian beauty couldn't avoid attention when she hit a red carpet covered in bright white powder.
Was Drew Barrymore auditioning for the lead in Powder? The big screen bombshell experienced an embarrassing makeup malfunction when she hit a Hollywood event with powder drenching her face.
And leave it to Lady Gaga to get gruesomely glam with the most eccentric eye makeup we have ever seen!
For all the rest of the worst makeup malfunctions of all times, click here.