Exclusive
America's Next Top Model? Tyra Banks Plots Big Comeback With A Kim Kardashian-Style Makeover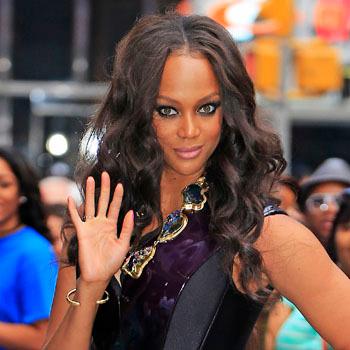 America's Next Top Model host Tyra Banks wants to put herself back on top with a Kim Kardashian style makeover — and perhaps a new reality show focused on her own life, RadarOnline.com has learned.
"Tyra is quietly engaging new members of her business team to develop a media comeback strategy," a source close to the mogul said.
"She's plotting a big overhaul and plans to make Kim Kardashian types of appearances in jaw-dropping outfits and made up to the nines. Tyra is also considering doing a new reality show centered around her own life."
Article continues below advertisement
Even though ANTM, Banks' long-running CW model reality show, recently got picked up for an incredible 21st season expected to premiere this summer, according to the source, Tyra, 40, thought she could use a new look!
"Tyra never wants to be seen as stale or irrelevant," the source explained. "The idea is to re-establish Tyra as an unconventional glamour icon with a fearless and figure-hugging fashion sense."
And the former supermodel and businesswoman is weighing entering Kardashian territory by doing a different reality show which would focus solely on her life on camera and off.
"Tyra never wanted to do it in the past, but now she's finally considering reality show about her life, warts and all," the source said.
"It isn't a done deal yet but it sounds like it will be the centerpiece of this re-invention, because she's putting a lot of time and money into this."