What A Boob! 'Real Housewives Of Orange County' Star Lizzie Rovsek Slams 'Trashy' 'Mean Girl' Tamra Barney Judge For Mocking Her 'Kentucky Fried Titties'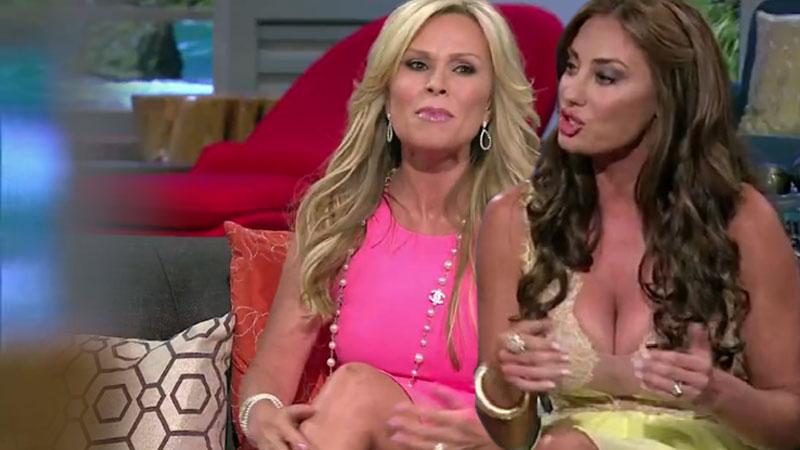 Article continues below advertisement
"I am sure everyone is aware of Tamra's nickname for me, 'Kentucky Fried Titties,'" Rovsek began in the blog. "…It really is trashy and frankly low class."
Though she planned to simply ignore the jibe at first, Rovsek admits, "It was a trigger for me, and it really touched on something that I had been self-conscious of my entire life. … I grew up hearing a lot of derogatory names targeted at my large chest. I was the girl in fourth and fifth grade that cried when friends had pool parities and wore T-shirts over my swimsuit to cover up my chest. … I was always self-conscious."
Describing how she says her "34DDD natural boobs at age 21" made pageant life and serious acting challenging, she reveals how she got her first breast reduction at the age of 23, to a 34D.
But "whatever the case," Rovsek says, "my boobs were huge again six years later," and so she had another breast reduction "right before" marrying husband Christian.
"I was the perfect size. Not too big and not too small," she writes. "And then I had kids. So now I have very large boobs again. I will probably get another reduction when I am done having children, but we want more kids so now is not the time. I guess God wants me to have big boobs!"
Article continues below advertisement
"I know some of you are probably thinking, 'Oh poor Lizzie and her big boobs,'" Rovsek writes. "But it was a real thing to me and I think as women we all struggle with insecurities."
As such, she says, Judge's "name calling" is especially painful. "I see nothing more than a 47-year-old bully when I see Tamra," she says. "I see bullying … What kind of message does this send to young women? I don't have girls, but I have nieces and I would never teach them to be mean girls."
Do you think Tamra is a mean girl or is Lizzie being overly sensitive? Let us know in the comments!