Broken Family: After Two Months Of Happy Visits, Kendra Wilkinson & Mom Patti's Estrangement Is Back On: 'I Continue To Be Hurt & Disrespected,' Patti Says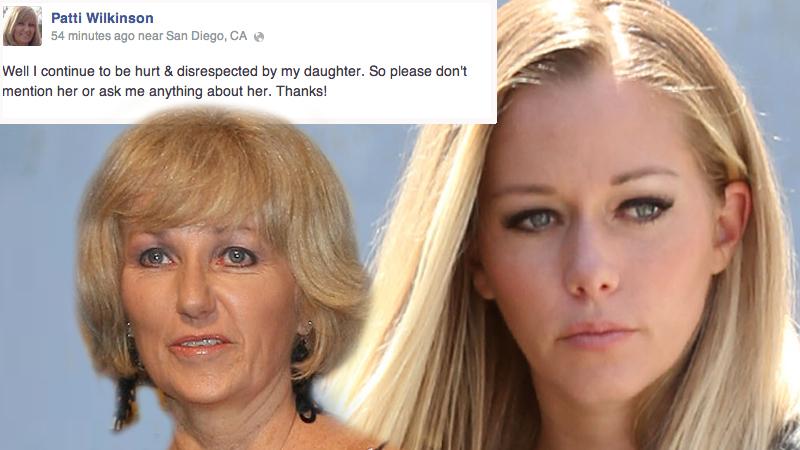 It looks like Kendra Wilkinson and her mother's newly repaired relationship has already been shattered.
Patti Wilkinson took to Facebook to fill her friends in on the sad news.
"Well I continue to be hurt & disrespected by my daughter," the San Diego, Calif., resident, 55, posted on August 18. "So please don't mention her or ask me anything about her. Thanks!"
Kendra and Patti shared a bittersweet reunion after eight months of estrangement when the Kendra On Top star, 29, heard RadarOnline.com's exclusive report that her husband Hank Baskett, 31, had cheated with a transsexual model.
Article continues below advertisement
Two weeks after their June 28 meeting, Patti again visited Kendra and grandchildren Hank Jr., 5, and Alijah, 3 months, at her daughter's Calabasas, Calif., home.
"Nothing I wouldn't do for my kids," Patti wrote on her Facebook page July 17.
But now it seems there's been an abrupt end to their new bond— perhaps because Kendra seems to have softened after her initial fury over the former NFL player's shocking betrayal. As RadarOnline.com exclusively revealed, the pair threw a BBQ together for family and friends on August 9.
Just before their brief reconciliation, Patti spoke out about the bitter feud exclusively to RadarOnline.com.
"Hank seemed kind of controlling. That kind of bothered me," she said, adding that her daughter's last words to her in October 2013 were "I hope you die."
"It really dug deep," Patti admitted. "It really was hard to take."