Family Feud! Kendra & Cheating Hubby Hank Jet To Costa Rica To Reconcile With Estranged Father, Infuriating Her Brother And Mother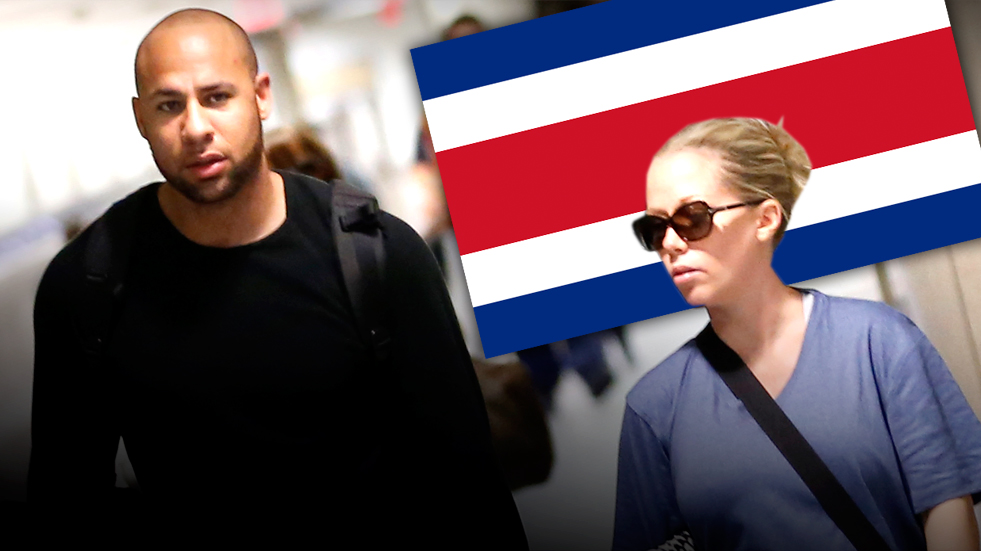 There's trouble in paradise for Kendra Wilkinson.
Less than two months after RadarOnline.com exclusively exposed her husband Hank Baskett's affair with a transgender model, the reality TV couple flew to Costa Rica to reconcile with her estranged father, Eric, on camera, Us Weekly reports.
But their luxury trip didn't bring the heartbroken 29-year-old and her former NFL player hubby, 31, back together.
Article continues below advertisement
"Hank was only with her because he's contracted to appear on Kendra on Top," an insider tells the magazine. "Kendra is not taking Hank back."
While the 29-year-old mother of Hank Jr., 4, and Alijah, 3 months, may be forging a bond with her father, whom Us reports she hasn't seen since she was a little girl, she's shattering her relationship with mom Patti and brother Colin in the process.
As RadarOnline.com previously revealed, Colin slammed his sister last night in a tell-all Facebook post.
"It pains me to find out that my sister has not only PAID my FATHER to appear on her reality show but also took the time to fly to another country to visit him," the C-Dub Entertainment founder wrote August 19. "This man is the biggest coward piece of sh*t I have ever met. He is not a man….A man doesn't leave his family starving and broke."
He then called for his friends to boycott Kendra's WE tv series, which will return in October.
The day before, Patti took to her Facebook page to air her own grievances.
"Well I continue to be hurt & disrespected by my daughter," the 55-year-old San Diego, Calif., resident huffed on August 18.
Kendra and Patti had recently ended their eight-month estrangement after the former Girls Next Door star learned of her husband's shocking affair, which occurred when she was heavily pregnant with baby Alijah.