She'd Do Anything For A Friend! Jennifer Aniston Reportedly Helping Pal Portia De Rossi After Rehab Stint, Marriage Troubles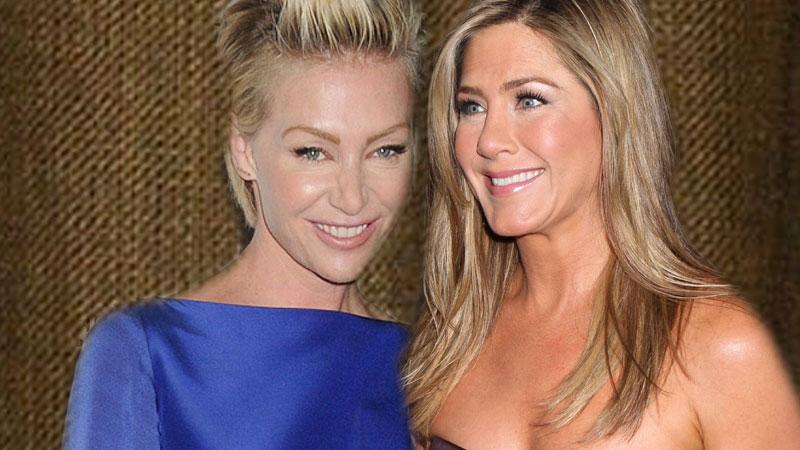 Jennifer Aniston is good to her Friends!
The actress, 45, has been helping pal Portia de Rossi cope with life after her May stint in a Malibu treatment center for drug and alcohol abuse, reports The National ENQUIRER.
"After Portia got out of rehab, Jen reached out to her and they've been in close touch ever since," an insider told The Enquirer. "The joke among Jen's friends is that she should charge a fee for her counseling. They call her "Mama Jen" because she's a nurturer and caretaker to everyone."
Article continues below advertisement
The Wanderlust star sent the 41-year-old wife of Ellen DeGeneres self-help books and connected her with yoga guru pal Mandy Ingber, The Enquirer claims. But mostly, Aniston
One topic of the pair's unofficial therapy sessions? De Rossi's troubled marriage to the famous talk show host.
"Jen has listened for hours as Portia poured out her heart over the issues she and Ellen are grappling with, including fighting over whether to have a baby and how to deal with Ellen's jealousy," the insider added. "Portia confessed to Jen that Ellen is so possessive that she's even threatened by how close Jen and Portia have gotten!"
Hopefully, Aniston will stick around: As RadarOnline.com exclusively reported, celebrity journalist Randy Jernigan will expose DeGeneres and de Rossi's many marriage secrets in an upcoming tell-all book.
"Many fans don't know that Ellen and Portia have had a very tumultuous romance since the very beginning," Jernigan told Radar.