'Real Housewives Of Orange County' Fakery! Tamra Barney Calls Out Bravo Producers For Manipulating Scenes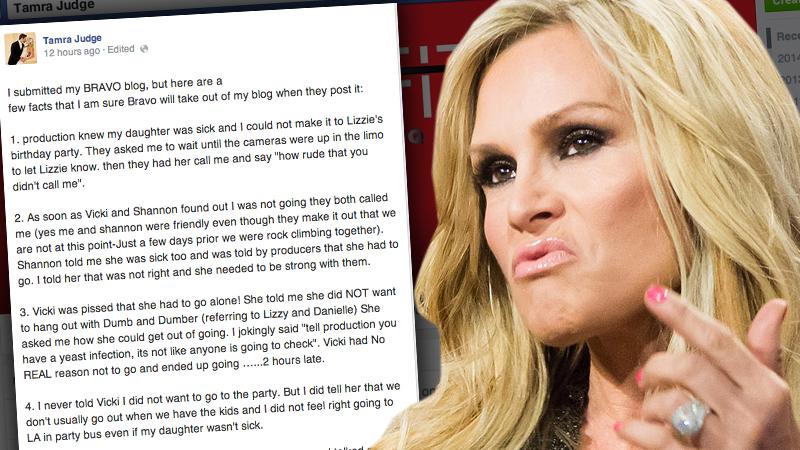 Tamra Barney Judge knows her Real Housewives of Orange County blog is censored by producers, so the outspoken reality star took to her Facebook page to call Bravo out for manipulating scenes, creating unnecessary drama and making her out to be the villain.
"I submitted my Bravo blog, but here are a few facts that I am sure Bravo will take out of my blog when they post it," the 46-year-old CUT Fitness owner told fans immediately after Monday's viewing.
Article continues below advertisement
On the action-packed episode, Barney ditched Lizzie Rosvek's 34th birthday party at the very last minute— or did she?
According to the mother of four, she alerted producers in advance that her daughter was sick and she would be unable to make the soiree, but seemingly desperate for drama, they forced Barney to wait until the last minute to let her costar know.
"They asked me to wait until the cameras were up in the limo to let Lizzie know," she alleged. "Then they had her call me and say 'How rude that you didn't call me.'"
In her blog post, Barney also defended her alleged frenemy, Shannon Beador, for missing the bash.
"Shannon told me she was sick too and was told by producers she had to go," Barney said. "I told her that was not right and she needed to be strong with them."
She then let fans know that she and Beador, 49, were actually on solid ground.
"Me and Shannon were friendly even though they make it out that we are not at this point- Just a few days prior we were rock climbing together," she wrote.
Article continues below advertisement
Was Tamra right to speak out against Bravo producers? Sound off in the comments.