Exclusive
Monster Mom Tamra Barney Is A 'Trashy, Lying, Cheating Adulterer' Who Is 'More Interested In Fame Than Being A Parent,' Slams Former 'RHOC' Co-Star Slade Smiley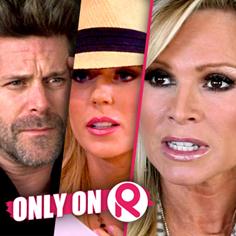 Gretchen Rossi and Slade Smiley aren't even on The Real Housewives of Orange County any more, but that doesn't mean they aren't stirring up drama with the other housewives! After Tamra Barney was accused of neglecting her children in her bitter custody battle with ex-husband Simon Barney, Rossi and Smiley were quick to weigh in, reigniting their long-simmering feud. Barney fought back, and now Smiley is standing up for himself and his fiancée, telling RadarOnline.com exclusively that Barney's comments have been "disgusting," and he predicts that she will eventually be fired from the hit Bravo show!
Article continues below advertisement
Article continues below advertisement
In addition, Smiley was adamant that he and Rossi do not sell stories about their former castmates, and slammed Barney's efforts to exploit his child's illness.
"All Tamra was trying to do was to get my ex on the show," he claimed.
Faked Scenes, Lies & Payoffs – The Ultimate Guide To Reality TV Shows
As for Barney's custody battle, and his comments on it, Smiley said, "I don't know why we've been brought into everything. Simon is not the one claiming she is neglecting her children. Doctors and therapists are submitting claims of child neglect. They're the ones saying that she verbally abused her kids and they don't want to stay with her. These are professional people saying this."
Recalling his own experiences with Barney, he said, "I have never seen Tamra with her kids. I am not surprised because I bet they are having the same experience that ... I had. Tamra is more interested in fame than being a parent. I've been to plenty of events that were not filmed and she was never with her kids."
Ultimately, Smiley said he predicts that Barney will eventually be dumped from Bravo's original Housewives franchise.
Article continues below advertisement
"Tamra WILL be fired in the future," he told RadarOnline.com. "She is a trashy, lying, cheating adulterer that will be leaving."
Barney has been adamant that she did not cheat on her second husband, telling Andy Cohen on Watch What Happens Live that despite Simon's divorce papers claiming she "committed acts of disloyalty and infidelity," she only sent her ex-boyfriend text messages, and did not have an affair.