Revealed: Tamra Barney's Foul Mouthed Tweet Slamming Fiancé Of Ex-Gal Pal Gretchen Rossi -- Slade Smiley Is 'A Deadbeat With A Sick Son'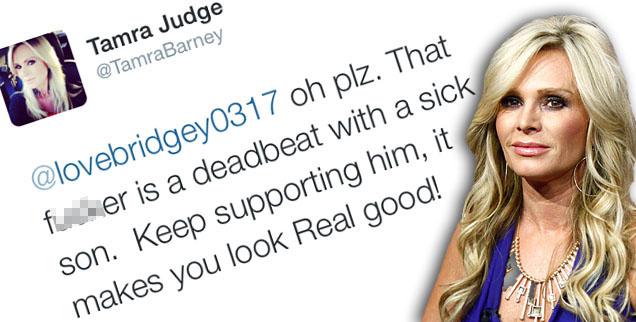 Article continues below advertisement
Bridgette Ramirez wrote on the social media site: "@TamraBarney Would Talk About @SladeSmiley ALL The Time, But Now That Roles Are Reversed..She DOESN'T Like It! @GretchenRossi #Karma"
It prompted a stunning response from the mother-of-four.
She wrote: "Oh plz. That f**ker is a deadbeat with a sick son. Keep supporting him, it makes you look Real good!"
As RadarOnline.com previously reported, Smiley and his ex-wife battled over support for his child but they have settled on an amount that the one-time Bravo star pays for the medical treatment of his young son, who was diagnosed with cancer.