'RHOC': Fitness Maven Tamra Barney Frets Over Son Ryan After He Admits To Buying 'Sketchy And Illegal' HGH — From A Drug Dealer!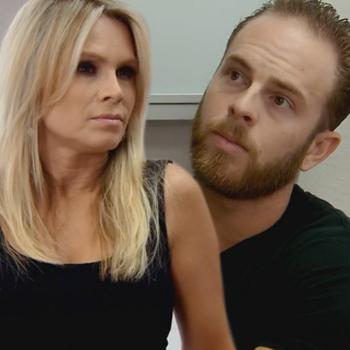 While Tamra Barney Judge is in a bitter custody battle over her three youngest children, she was bonding with her grown son Ryan Vieth over anti-aging treatments on The Real Housewives of Orange County.
On Monday night's episode, as Judge talked to her 28-year-old son about how she was going to her doctor for some anti-aging treatments, he told her his secret — human growth hormone, a.k.a., HGH.
"I don't want to get any older," plastic surgery enthusiast Judge, 46, said to Vieth.
Article continues below advertisement
"You're 52?" he joked.
"You're such an a**hole," responded Judge, who gave birth to Vieth at age 18.
Vieth wondered if the doctor would prescribe HGH, and revealed to his mom that was his own solution.
"I have less fat on my body. My muscles are more dense. Even my hair has gotten better," boasted Vieth, who recently got engaged after a trouble-prone past and is now working at Judge's gym, CUT.
Judge told the cameras that Vieth had always struggled with body issues and looked for the easy way out.
And horrifyingly, Vieth admitted to Judge he purchased his HGH from "the parking lot."
Vieth said it looked legit, but Judge forced him to go to the doctor with her and he conceded of his HGH purchases, "It's sketchy and probably illegal."
"It's sketchy and illegal but it's the way you like to do it," scolded Judge, who also told the cameras Vieth was a grown man and she couldn't control him anymore.
Article continues below advertisement
Later the mother/son duo visited Dr. Lester Lee, and the anti-aging physician suggested hormone replacement therapy for the housewife, specifically, testosterone.
Drama Runs In The Family: Real Housewives Kids Who Created Their Own Controversy
Judge then sighed to her doctor, "He's been buying growth hormone at his gym."
She also told the cameras, "Ryan will not listen to me … he doesn't even know where this drug is coming from."
Article continues below advertisement
Gunvalson wanted Briana, 26, to stay with her until she had her second baby, but the daughter told Bravo's cameras, "I'm not going to live with her ever again."
"I don't like California. I don't want to raise my kids there," Briana told Gunvalson, as they shopped for a home -- with underground shelters for possible hurricanes.
Gunvalson sighed that Oklahoma was a nice place to visit but no place to live.
Article continues below advertisement
Beador told Dubrow she'd been singled out for being late to her hoedown: "I felt judged. You're speaking to me in a condescending way."
Real Housewives, Real Health Scares – 15 Frightening Medical Fears Of The Ladies Of Bravo
Dubrow countered that Beador had invited her friends over behind her back.
"I don't think I can do right by you," Beador concluded.
Going forward, Dubrow said, "If you have a problem with me, pull me aside and let's discuss it."
Beador told the cameras, "I have my doubts."
The Real Housewives of Orange County airs on Bravo Monday at 9/8c.