Exclusive
'Ridiculous' 'RHOC' Fakers! Tamra & Eddie Judge Never Seriously Discussed Having Kids — Despite 'RHOC' Storyline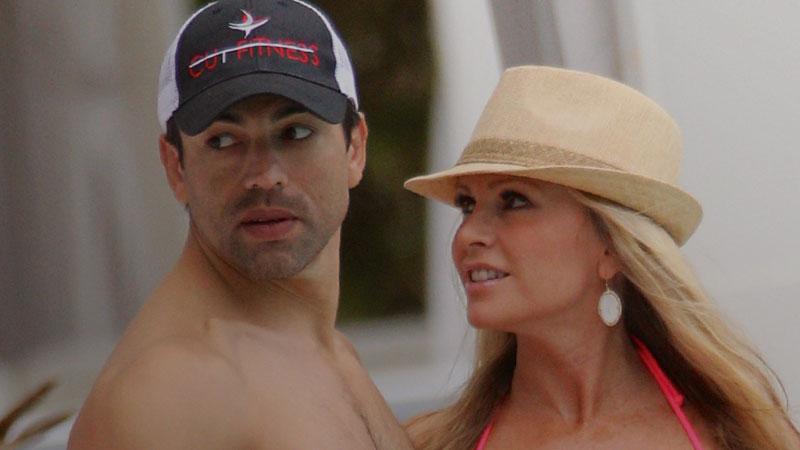 Tamra and Eddie Judge pretend to be a content couple on Real Housewives of Orange County, but when it comes to their desire to build a family together, RadarOnline.com has learned, they're faking it! Despite an ongoing storyline on the Bravo show about Tamra's desire to have a baby with Eddie, sources tell RadarOnline.com her newly awakened maternal instinct is complete BS — and she is physically incapable of giving birth again anyways!
Article continues below advertisement
Tamra, 46, "doesn't want another baby, no way," an insider said. "It's all for a storyline for the show. Tamra doesn't want to wake up in the middle of the night for feedings and diaper changes! It's the last thing that she wants.
"After Eddie and Tamra had been dating for a few months, he actually asked her how she felt about having more kids," the source said. "At that point, Eddie very much wanted to have kids with her. However, that is no longer the case. Even if Tamra could have kids — which she can't, because she had her tubes tied several years ago — Eddie doesn't want that added responsibility."
Meanwhile, Tamra is fighting her ex-husband Simon Barney in court for custody of her three kids with him: Sidney, 15, Sophia, 8, and Spencer, 13, as RadarOnline.com has extensively reported.
Though the couple currently share custody 50/50, Simon is looking for more, claiming Tamra has neglected their three kids. Tamra has staunchly denied his charges, while daughter Sidney has reportedly said in court papers that the RHOC star was "unpredictable."
Article continues below advertisement
Bravo's cameras recently showed Tamra tearfully addressing the scenario.
"I would love to have my kids with me all the time," she admitted, "and sometimes I feel if Eddie and I had our own baby, that nobody could take it away from me and I don't have to share it with somebody and I wouldn't only get to see it 50 percent of the time. I just want something of ours that Simon's not going to take away from me."
Adding to the drama in Tamra's life, oldest son, Ryan Vieth, 28, is expecting a baby with fiancé, Sarah Rodriguez.
"Tamra is going crazy whenever anyone brings up Ryan's baby," the source said. "She doesn't want to be a grandmother."
Meanwhile, as for her desire to be a mom again, "Eddie thought it was ridiculous that Tamra was even pretending to want a baby on camera, especially when she is about to be a grandma!" the source continued. "Tamra said it was only for the show, which caused Eddie to roll his eyes."