Tamra Barney Denies She Was Ever Offered A Real Housewives Spin-Off, Says Blogger's Claim That She Was, 'Was A Lie!'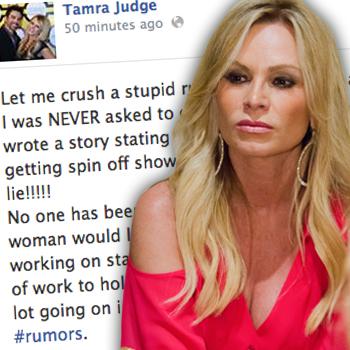 Real Housewives of Orange County star Tamra Barney, refuting recent reports from an unnamed blogger, said she was never offered a spin-off show, nor were any of her cast mates on the Bravo staple.
"Let me crush a stupid rumor that won't go away," Barney, who has been embroiled in a vicious custody battle with her ex-husband Simon, wrote on her Facebook page Monday. "I was NEVER asked to do a spin off show!"
Article continues below advertisement
Barney wrote that a story that she, Vicki Gunvalson and Lizzie Rovsek were all getting their own programs "was a lie!!!!!" and that "no one has been offered a spin off!"
She continued, "I'm sure a lot of women would love to have their own show and are working on standing out to get their chance … but it is a lot of work to hold your own show and you need to have a lot going on in your life."
Barney's comments dovetail with those Bravo powerhouse Andy Cohen made last week during a Q&A, as he noted that "almost all" of the Real Housewives cast members have lobbied him for a spinoff, he's got a stock answer for the would be-breakout starlets.
"I always say, 'You should be so happy to be on this ensemble show, you get paid so well,'" he said.
As we has previously reported, Barney's dirty laundry became public a few months back, after her daughter Sidney labeled her mother as "verbally and emotionally abusive," as well as "embarrassing" for her on-screen antics, in court docs related to her father's petition for full custody.