Bethenny Frankel Happy To Exploit Women's 'Insecurities And Mental Illnesses … For Pure Economic Gain,' Paulina Pinsky Says In Scathing Editorial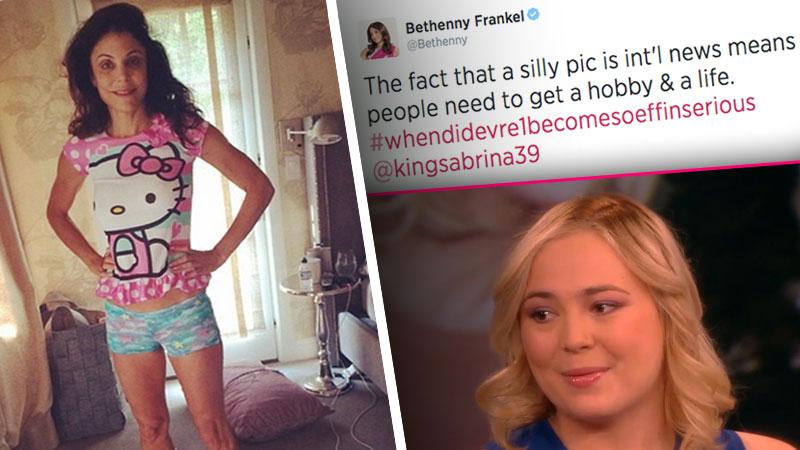 Bethenny Frankel continues to deal with the fallout of pajama-gate.
The 43-year-old reality star — who raised eyebrows, and some tempers, showing off her super-skinny frame posing in her 4-year-old daughter's clothes earlier this month — has come under fire from Dr. Drew Pinsky's daughter Paulina whose been publicly candid about her own battles with body image, in the form of anorexia and bulimia.
After running down her own experiences saving her own worn out, old threads — and eventually tossing them, understanding it was unrealistic to stay the same size forever — Pinsky, 21, writes in a new HuffPost blog, "Bethenny Frankel, you are fooling no one. When your professional title is 'Skinny Girl,' of course wearing your 4-year-old's pajama set is going to spark controversy."
Article continues below advertisement
In her op-ed, Pinsky eviscerates Frankel as someone willing to capitalize off women's "insecurities and mental illnesses" — even ones she's admittedly struggled with herself — "for pure economic gain.
"She is blatantly perpetuating the unrealistic standard of beauty that declares that we must all shrink ourselves down to fit into what is considered 'beautiful' and 'sexy,'" Pinsky wrote, accusing Frankel of "exacerbating a problem that affects her personally, and profiting from it."
Perhaps even more biting, Pinsky, a Barnard College student, takes direct aim at Frankel's parenting, asking, "What sort of message is she trying to send to her daughter?
"Her mother is posing for a picture in her pajamas, probably her favorite set of pajamas, and she is teaching her that being the size of a 4-year-old is what she should want to be at the age of 43."
Pinsky predicted that "teaching a child that maintaining her toddler-sized body is what she should want is only going to set her up for a life plagued by body insecurities."
Article continues below advertisement
As for Bethenny's initially humorist twist on the image — she captioned it, "Think we're ready to start sharing clothes yet?" — Pinsky said that "the last time I checked, Bethenny Frankel is not a comedian … stay out of comedy, Ms. Frankel.
"You do a better job making a living exploiting body insecurities. And once you realize that you are part of the problem, there are people waiting for you to become part of the solution."
Without addressing Pinsky directly, Frankel continued to defend herself via her Twitter account Monday, saying that "the fact that a silly pic is int'l news means people need to get a hobby & a life," with a hashtag asking, "When did everyone become so f-ing serious?"