Exclusive
Look Out, Ryan Gosling! Zac Efron Is Shopping For A New Girlfriend, And Eva Mendes Is At The Top Of His 'Wish List'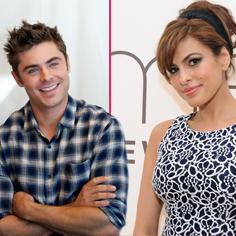 Zac Efron is looking to start dating again, but he could get stopped in his tracks—because Ryan Gosling's girlfriend Eva Mendes is his top target, RadarOnline.com has exclusively learned.
"Zac has compiled a 'wish list' of eligible women – and Eva Mendes heads the list," a source said. "Zac wants to date someone who's not intimidated by fame and who can challenge him intellectually."
According to the source, the High School Musical star, 26, is not bothered by the age difference between him and Mendes, 40.
Article continues below advertisement
"He's always loved her look and thought Ryan Gosling was insane not to put a ring on her finger. If she was even remotely interested he'd jump at the chance."
Efron now is clean and sober after reportedly going through rehab in 2013. He recently admitted his addiction battle "is a never-ending struggle."
The source said Efron, who once was serious with his High School Musical co-star, Vanessa Hudgens, 25, is finally ready for a relationship again.
Although he's been spotted with his Neighbors co-star, Halston Sage, 21, the source said other single women catching Efron's eye are Lea Michele, Katy Perry and Selena Gomez.
"Zac also has always had a huge crush on Rihanna, apparently, but her partying habit rules her out for anything long-term," the source said.