Exclusive
Eva Mendes Campaigns To Have A Baby With Ryan Gosling — By Hanging With Mom Pal January Jones!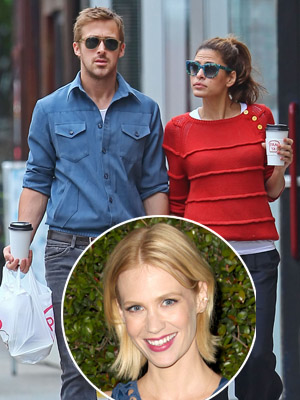 Eva Mendes is trying to convince on-again, off-again boyfriend Ryan Gosling that they should have a child together, RadarOnline.com has learned.
And the 2 Fast 2 Furious beauty, 39, has been hanging out with her single mom pal January Jones, 36, to make her case!
"Eva is spending a lot of time with January and her two-year-old son, Xander," a source dished.
"She's going overboard with her supportive relationship with January, who has her hands full as a young mother at the moment.
Article continues below advertisement
"Eva seems obsessed with proving to Ryan that she's ready to start a family."
The source said while Mendes "repeatedly passed on the idea of having children" with her previous boyfriend, Peruvian filmmaker George Augusto, she now has baby fever!
The Craziest & Most Outrageous Celebrity Rumors — What's True, What's Not?
And she wants Gosling to be the father, even though they've had their ups and downs, the source added.
As RadarOnline.com has reported, Mendes and Gosling, 33, recently took a break in their relationship as The Notebook hunk was undecided about their future.
But after they had been a couple for more than two years, "Eva wanted to have his babies," an insider said.