Exclusive
Less Bling For Gosling! Eva Mendes Gives Scruffy Boyfriend Ryan An Accessories Makeover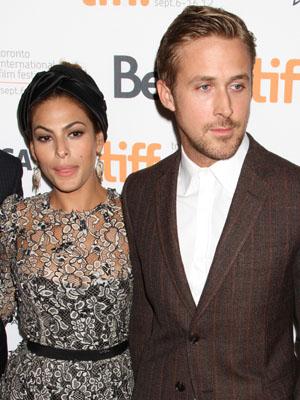 Eva Mendes is giving her often-scruffy boyfriend Ryan Gosling a makeover, RadarOnline.com has learned.
A source said The Notebook hunk, 33, "has always done his own fashion and avoided working with a stylist, which has led to some odd clothing choices over the years, but now Eva is doing all of Ryan's shopping for him and she's trying to overhaul part of his look -- specifically his accessories."
According to the pal, fashion-forward Mendes, 40, who creates collections for the women's clothing store New York & Company, "gets annoyed when Ryan goes overboard on the man-jewelry and she's not crazy about the fact that he's always wearing thrift store rings and second-hand necklaces and pendants."
Article continues below advertisement
To separate Gosling from the cheap bling she hates, the source revealed, "Eva is actively picking outfits for him that are impossible to pair with jewelry."'
However, glamor gal Mendes recently was happy to make an exception with the "Hugo" necklace Gosling wore on the red carpet in San Francisco for the premiere of his latest movie White Shadow. In fact, the pendant, which featured the name of Mendes' beloved dog, Hugo, proved that the couple are still very much together.
But Gosling raised eyebrows with the rest of his casual look, which included worn brown boots and stained brown jeans!
"Eva feels she can make him look a lot better and hopes to change his style little by little," the source said.
"They're still a very happy couple but she wears the pants for sure — Ryan is very dependent and childish behind the scenes."