Dumped Drake Nursing Broken Heart Over Rihanna: 'All She Needs To Do Is Snap Her Fingers & He'll Go Running Back To Her,' Says Source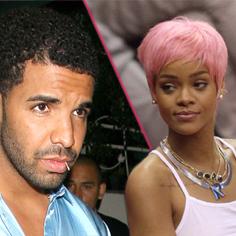 Started from the bottom, now he's heartbroken! Rapper Drake is down in the dumps after getting the boot from Rihanna, RadarOnline.com has exclusively learned.
"She gave him his marching orders and he's destroyed," a source said.
But the "Over" singer is finding it hard get over the beautiful Bajan according to the source, and would get back together with her in a heartbeat, despite having gotten the brush-off.
Article continues below advertisement
"Drake was ready to walk away for good after Rihanna dropped him, but she has this power over him," the source noted. "All she needs to do is snap her fingers and he'll go running back to her."
Fellow musicians Drake, 27, and Rihanna, 26, have had an on-again, off-again dating history and in June 2012, the rapper and Chris Brown, 25, the boyfriend notorious for beating her up, allegedly got into a physical fight over the beauty.
The on-off pair rekindled their relationship earlier this year with the "Diamonds" star being spotted with him in Paris in February and in London in March. But Drake was noticeably absent from Rihanna's May post-Met Gala party and it was then reported she'd split up with him.
Now, the source said, "Drake is convinced that Rihanna has self-esteem issues and is pushing him away because she doesn't believe in or trust true love, which isn't surprising after the crazy stuff that happened with her and Chris.
"All of Drake's crew wish he'd forget about her and move on but he's hooked — no matter how upset, hurt and angry he is with her right now."