He's Sizorry: Drake Apologizes To Rolling Stone For Outburst, Says Lack Of Control Over Magazine's Story Was 'Devastating'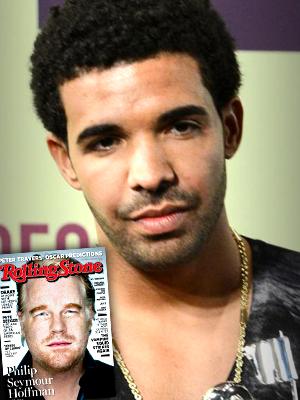 Drake's sorry.
The Canadian-born R&B star, a day after raging over being bumped off the Rolling Stone cover for late actor Phillip Seymour Hoffman -- and alleged misquotes about Kanye West -- took to his blog to apologize for Thursday's outburst, which he punctuated with the statement, "the press is evil."
On Friday, however, a calmer, gentler Drake -- in a post dubbed "Tough Day At The Office" -- wrote that he has "completely support" for the magazine in their decision to bump him to who he dubbed "one of the most incredible actors of our time and a man that deserves to be immortalized by this publication.
Article continues below advertisement
"In no way would I ever want to offend the Hoffman family," he said of the late Oscar-winner's fatal heroin overdose, "or see myself as bigger than that moment."
The 27-year-old rapper, whose real name is Aubrey Drake Graham, said his beef was that he had no say in regards to putting off the publication of the text or photos in his story in the issue, a feeling which he described as "devastating.
"They ran the issue without giving me a choice to be in it or not," the Toronto native explained. "I would have waited until it was my time because I understand the magnitude of the cover they chose but I just wasn't given that option and that made me feel violated."
He said after seeing the overwhelmingly negative feedback to his sound-off, which many perceived as arrogance, he did some soul searching and discovered some fault on his part.
"After dwelling on it for a few hours or days you will come to the conclusion that you brought it on yourself almost every time," he wrote. "So here I am having that moment. I once again apologize to everybody who took my cover comments the wrong way.