Drake Disses 'Rolling Stone' For Cheating Him Out Of Cover With Philip Seymour Hoffman's Heroin Death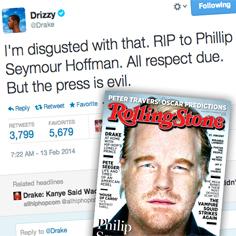 Don't diss Drake. The Canadian rapper lashed out at Rolling Stone magazine for putting the late Philip Seymour Hoffman on the cover after his heroin overdose and called the press "evil" for the slight and also claimed he never commented on Kanye West's Yeezus album.
He took umbrage with the fact that the magazine, which has often been criticized for no longer covering music, replaced him on the cover with the actor following his tragic death.
Article continues below advertisement
"I'm disgusted with that. RIP to Phillip Seymour Hoffman (sic). All respect due. But the press is evil," Drake Tweeted on Thursday.
Drizzy also claimed that Rolling Stone, who he asked to "be sure your tape recorder gets everything," wasn't accurate with what he said about Kim Kardashian's fiancé and baby daddy's album.
"I never commented on Yeezus for my interview portion of Rolling Stone. They also took my cover from me last minute and ran the issue," he wrote.
The interview reads: "There were some real questionable bar on there. Like that 'Swaghili' line? Come on, man. Even Fabolous wouldn't say some sh*t like that."
So now Drake says he's finished talking to the press.
"I'm done doing interviews for magazines. I just want to give my music to the people. That's the only way my message gets across accurately."
Do you think Drake should be angry at Rolling Stone? Tell us in comments.