Hollywood Poker Ring EXPOSED In New Tell-All From 'Poker Princess' Molly Bloom: Tobey Maguire Was 'The Absolute Worst Loser' & Ben Affleck Was 'Smart Player' Who Bragged About J. Lo's Butt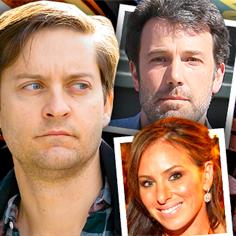 Tobey Maguire "was the worst tipper, the best player, and the absolute worst loser," according to the woman who organized the notorious celebrity poker ring the actor partook in frequently, painting the respected actor as petulant and elitist, with a perverse sense of humor.
Molly Bloom, the stunning 36-year-old Colorado native behind the game that also involved Ben Affleck and Leonardo DiCaprio, has published a memoir about her involvement called "Molly's Game," in which the purported "Poker Princess" dishes the dirt on the Seabiscuit hunk and his bad boy behavior at the poker table, and beyond.
Article continues below advertisement
Key excerpts from the book are featured in the new Vanity Fair, such as one instance in which the Spider-Man star ordered her to "bark like a seal who wants a fish" for a $1,000 chip. Bloom recalled that he told her, "I'm not kidding. What's wrong? You're too rich now? You won't bark for a thousand dollars?"
Despite Maguire's repeated insistence she make like a seal and bark, in an effort to humiliate her, Bloom stood her ground in the uncomfortable exchange. She finally told him, "I'm not going to bark like a seal, keep your chip."
Maguire's reaction? According to Bloom, "He gave me an icy look, dropped the chip on the table and tried to laugh it off but he was visibly angry," prompting a buzz about his awkward behavior after he left.
Maguire demanded all games he partook in involved a shuffling machine called the Shuffle Master, designed to "to deliver a fair, random shuffle every time and increase the speed of each game."
In one instance, she wrote, the multi-millionaire actor demanded he pay her a $200 rental fee for use of the device at the games.
Article continues below advertisement
"I looked past him to the expansive foyer of his mansion in the hills," she wrote. "You could see straight through to the ocean. I laughed. Surely he was joking. He couldn't possibly be serious about charging rent for a machine he insisted that we use, from the guys whose money he was taking every week.
"But he was as serious as death."
In addition, Maguire was something of a control freak about the parameters of the poker games, demanding from Bloom, advance info about the players of that week's game and any new players who might be in the fold. Bloom recalled, "His words came out slowly, sounding soft on the outside but with a sharp-edged threat at the center," adding that she wanted "out of there before I promised him my first-born and his soul."
PHOTO: The 28 Biggest Sex Scandals In Hollywood History
Regarding Affleck, Bloom said his presence at the game was "monumental," and that "he was tall and handsome with a relaxed charisma that not all icons have in person."
She described Affleck's relatively low buy-in — of $50,000! — indicative of him being "a smart player who liked to limit his downside."
She recalled one exchange that might have embarrassed Affleck more than the reviews on Gigli, when Paris Hilton porn co-star Rick Salomon publicly quizzed the A-lister about his famous ex, and co-star in the infamous 2003 box office bomb, Jennifer Lopez.
Article continues below advertisement
According to Bloom, Salomon grilled Affleck, "Did Jennifer's ass have cellulite on it, or was it nice?"
After a silent stare-down, Affleck responded, "It was nice."
Affleck, Bloom wrote, was a name she could dangle as bait to billionaire whales she might be trying to recruit for the game. Any celebrity presence was a boon to the high-stakes affairs, which Bloom said she guarded fiercely to keep private (due to its' illegal nature, and the high-profile names implicated in it).
"When the Olsen twins showed up with a billionaire I was trying to land for a game," she wrote, "they were in, no questions asked."
Bloom is currently on probation in connection with her involvement in the illegal gambling operation.
July's issue of Vanity Fair will be available in New York and Los Angeles, as well as on the iPhone, iPad, and Kindle, on June 12. The magazine will be on national newsstands and available in an audio edition on June 17.