Exclusive
'Poker Madam' Who Arranged Illegal Games For Top Hollywood Stars Indicted In New York's Organized-Crime Gambling Ring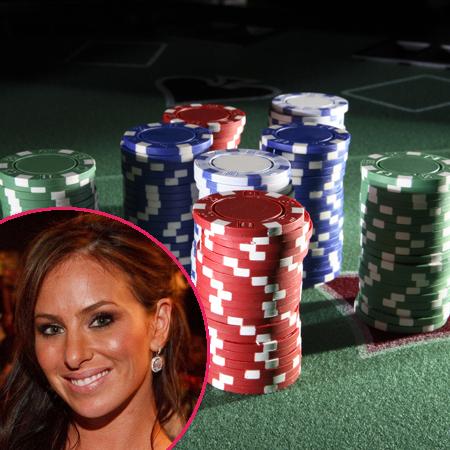 Notorious Hollywood poker madam Molly Bloom is one of nearly three dozen people who face federal charges in connection with a high-stakes illegal poker ring that stretched from Tinseltown to New York and involved some of Hollywood's biggest names, drugs, and even alleged Russian mobsters.
Bloom was previously sued and charged with helping organize illegal Hollywood poker games that included Tobey Maguire, Matt Damon and Leonardo DiCaprio.
Article continues below advertisement
Major league baseball questioned New York Yankees star Alex Rodriguez after RadarOnline.com's reports that he had played in games arranged by Bloom.
According to a bombshell indictment filed by prosecutors in Manhattan on Tuesday, Bloom – a stunning brunette -- was one of seven people in an organized crime crew who ran the illegal poker business from 2010 until it was smashed this week, in a joint operation between the Federal Bureau of Investigation, Internal Revenue Service, New York Police Department and the United States Attorney.
Article continues below advertisement
Bloom, it's alleged, "knowingly and willfully did conduct, finance, manage, supervise and direct" an illegal gambling business.
ON YOUR RadarOnline.com: Biggest Scandals Of The Year
She distributed the proceeds of her unlawful activity, via two checks totaling $25,900, into a bank account in California "in connection with operating an illegal poker game," the 84-page indictment said.
Meanwhile, RadarOnline.com has exclusively learned that Illya Trincher -- one of the alleged Russian mobsters also charged with running the organized crime enterprise in New York -- played in the busted Hollywood poker ring previously linked to a cavalcade of celebrities, and organized by Bloom.
Investigators said were three illegal operations that operated international gambling businesses that "catered primarily to celebrities, professional poker players and very wealthy individuals working in the financial industry."
Trincher -- whose father Vadim, 52, and brother Eugene, 26, were also charged in the bust -- played in at least one high-stakes game of poker at The Four Seasons Hotel in Beverly Hills, Calif., according to a source with knowledge of his gambling activities.
Article continues below advertisement
Actors Maguire, DiCaprio, Damon and Ben Affleck played in the same ring, as RadarOnline.com was first to reveal in 2011.
Authorities did not name any of the celebrities alleged to have participated in the ring, although none are accused of participating in the criminal enterprise, and there is no suggestion any of those celebrities ever played in games with Trincher, 27.
It's almost certain, however, that some big names in Tinseltown and Wall Street will be swept up in the case, one high-roller predicted to RadarOnline.com.
"There are a lot of nervous people around the poker circuit," the source said.
"These games, whether in New York or Los Angeles, were often attended by a who's who of the entertainment and finance worlds where big money changed hands."
"Illya played one high stakes game where hundreds of thousands of dollars changed hands," the source told RadarOnline.com.
One of Bloom's other co-conspirators in the poker ring is Eugene Trincher, Illya's brother. He faces 30 years in prison if convicted on two charges of money laundering and operating an illegal gambling business; Bloom is staring at 10 years jail on one count of operating an illegal gambling business.
Article continues below advertisement
It's claimed they used threats of violence to make sure customers paid their debts.
"The Nahmad-Trincher Organization was a high-stakes illegal gambling business run out of New York City and Los Angeles that catered primarily to multi-millionaire and billionaire clients," prosecutors said in the court filing.
The men allegedly "engaged in crimes, including conducting an illegal gambling business, money laundering and extortion."
Article continues below advertisement
Trincher is described in the indictment as stand-over man who "participated in the collection and attempted collection of more than $2 million on unlawful gambling debts" from an unnamed client "by, among other things, acquiring his (Bronx, N.Y.) plumbing company, titled Titan."
Trincher's associate Nahmad allegedly financed the operation through the Helly Nahmad Gallery inside the Carlyle Hotel on Manhattan's Upper East Side.
Matt Damon & Ben Affleck: Boys Poker Night
Trincher's father, Vadim, is said to have directed much of the international racketeering enterprise from his $5 million apartment at Trump Tower.
According to federal investigators, Vadim, along with Anatoly Golubchik, aka 'Tony', were the leaders of another syndicate, named Taiwanchik-Trincher.
That enterprise allegedly laundered tens of millions of dollars from Russia and the Ukraine through Cyprus shell companies and bank accounts into the United States.
Article continues below advertisement
"Members and associated of the Taiwanchik-Trincher Organization and their co-conspirators worked together on a range of criminal money-making schemes, including operating an international gambling business that catered to oligarchs residing in the former Soviet Union and throughout the world," the indictment said.
Vadim faces 90 years in prison; Illya, if convicted, could be sentenced to 97 years in prison.
FBI Assistant Director-in-Charge George Venizelos said the charges demonstrated the scope and reach of Russian organized crime.
"One of the principal defendants is a notorious Russian 'thief-in-law' allegedly directing an international conspiracy through Cyprus to the U.S," Venizelos said.
"The defendants are alleged to have handled untold millions in illegal wagers placed by millionaires and billionaires, laundered millions and in some cases are themselves multimillionaires.
Article continues below advertisement
"Crime pays only until you are arrested and prosecuted."
Tobey Maguire Named In FBI File: How Ponzi Mastermind Turned Into Poker Snitch
In a statement, New York's police commissioner Ray Kelly said: "The subjects in this case ran high-stakes illegal poker games and online gambling, proceeds from which are alleged to have been funneled to organized crime overseas. The one thing they didn't bet on was the New York City police and federal investigators' attention."
All but four of the accused were arrested by FBI agents Tuesday in New York, Los Angeles, Miami, Philadelphia, Detroit and elsewhere.
The other defendants are considered fugitives and are still being sought.
Twelve defendants were charged with racketeering, while others were charged with crimes including money laundering, extortion, fraud and operating illegal poker rooms in Manhattan.
There were also raids at an apartment in Trump Tower on Fifth Avenue and a Madison Avenue art gallery owned by two of the alleged mobsters.