Exclusive
Poker Ring High Roller Speaks Out: We're Still Playing, Labels Tobey Maguire 'Cheap'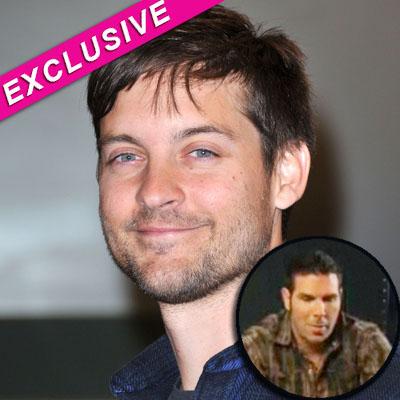 By Dylan Howard - Senior Executive Editor, Star magazine
One of the Hollywood card sharks being sued in connection with a mega-millions illegal gambling ring that ran high-stakes poker games has spoken out, revealing the secret games still continue and labeling Spider-Man star Tobey Maguire a cheapskate.
Dan Blizerian is facing a $100,000 lawsuit from duped investors who allege jailed Beverly Hills hedge fund manager Brad Ruderman used their funds to pay off his monster debt to a host of Tinsel town identities, including Maguire.
Article continues below advertisement
DOCUMENTS: Tobey Maguire Sued Over Illegal Poker Game
An FBI investigation into Ruderman, who is serving a 121-month sentence in a Texas jail, uncovered how he lost $25 million of investor money, including $5.2 million in the clandestine games held on a twice weekly basis in suites at the luxurious Beverly Hills hotel, Four Seasons and the Viper Room on Sunset Boulevard.
Tinsel town A-listers Leonardo DiCaprio, Ben Affleck and Matt Damon have been named as players in the no-limit Texas Hold 'em games, which had a buy-in of $100,000.
According to a series of lawsuits filed in the United States Bankruptcy Court, in Los Angeles, the games ended in 2009.
But speaking out as part of a Star magazine investigation, Blizerian shed new light of the intriguing underground scene that was, at one time so intense, the door to the suite where the games were held were manned by armed guards.
Matt Damon & Ben Affleck: Boys Poker Night
Blizerian and his brother Adam, who is also an avid poker player, told Star the games are held at the home of a top Hollywood movie producer.
Article continues below advertisement
"The buy-in is anywhere from $40,000 to $200,000," Adam told Star, adding: "That's a serious buy in. Some guys can be in for millions. A-Lister's are there, still."
The pair would not name the celebrities who still played, nor who coordinated the games.
Under California law, it's illegal to play for money at underground poker clubs, although it is a crime rarely prosecuted.
All Aboard! Leo's Supermodel Girlfriend Sets Sail With Armani
Dan told Star he often played against Maguire, 35, who he called a "nit" -- a reference in poker circles to an extremely tight/passive player that avoids confrontations.
Nits, it's suggested, tend to avoid big pots and do not like to gamble.
"Tobey is a jerk off," Dan said of the actor Maguire, who is being sued for Ruderman's losing hand to him, totaling $311,300.
A-Listers Before They Were Stars
"He's cheap as f**k and plays like a cheap b*tch... a guy who's worth all that money playing as if he's broke. Come on, dude."
Article continues below advertisement
Others facing hefty lawsuits in the wake of Ruderman's losses include billionaire businessman Alex Gores, The Notebook director Nick Cassavetes, Welcome Back, Kotter star Gabe Kaplan, Paris Hilton's infamous sex tape partner, Rick Salomon, record label owner Cody Leibel and Las Vegas nightlife entrepreneur and real-estate developer Andrew Sasson.
DOCUMENTS: Read Lawsuit Against Alex Gores
Dan told Star he would fight the lawsuit.