Exclusive
MLB: 'No New Information' To Open A-Rod Poker Probe, Despite Mobster Arrests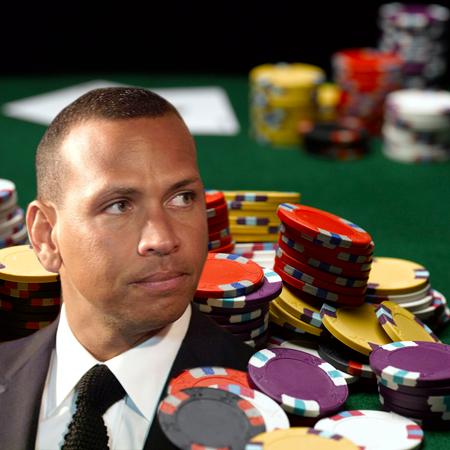 Maybe he folded in time.
Even though Alex Rodriguez was reportedly a member of an ultra-exclusive and high-stakes poker ring run by Russian mobsters, the New York Yankees slugger won't face questions from MLB headquarters, RadarOnline.com is exclusively reporting.
"As you know, we interviewed him in 2011 (and) thus far, we have not received any new information," a source at MLB headquarters told RadarOnline.com when asked if Rodriguez would be called to the commissioner's office to be grilled about his involvement.
Article continues below advertisement
Nearly three dozen people were charged Tuesday in what investigators said were three organized crime enterprises that operated international gambling businesses that "catered primarily to celebrities, professional poker players and very wealthy individuals working in the financial industry."
The New York Daily News reported one of those charged, Edwin Ting, 41, ran a Manhattan poker club where A-Rod, 37, was spotted in 2005.
Also among those arrested was "Hollywood poker madam" Molly Bloom, who was named in an indictment filed in a federal court in Manhattan as being one of seven people who ran a clandestine poker business from 2010 until it folded, this week.
It was Bloom who lured Rodriguez to games in Hollywood which involved a cavalcade of Hollywood stars including Tobey Maguire, Leonardo DiCaprio, Matt Damon and Ben Affleck, as RadarOnline.com first reported in July, 2011.
Article continues below advertisement
One of those games featured the open use of drugs and turned violent, sources told us.
Initially, the star's spokesman, Richard Rubenstein, denied that the Yankee played in any of the games.
Matt Damon & Ben Affleck: Boys Poker Night
But Rodriguez and his rep were later caught in a lie when a jailed Ponzi mastermind used a deposition at a prison in Taft, Calif., to admit that he played against the third baseman.
Hedge fund manager Bradley Ruderman embezzled $25 million and used $5.2 million of it to pay off monster poker debts to a slew of high-profile Hollywood identities, including Maguire and The Notebook director Nick Cassavetes.
In his testimony, Ruderman was specifically questioned by lawyers about one particular game.
ON YOUR RadarOnline.com: Biggest Scandals Of The Year
"I can give you some of the names I remember," he told the attorneys.
"Kenny Tran, Alex Rodriguez."
"The baseball player?" one lawyer asked, somewhat surprised.
"Yes," Ruderman said.
In 2005, A-Rod faced questions from the MLB for the first time about his activities at poker dens after he was spotted at a parlor in Manhattan playing with poker pro Phil Helmuth.
He was later warned by the Yankees and MLB to avoid them.