Inside 'Horndog' Antonio Banderas' Secret Flirtation With Indian Actress — The Other Woman's BFF Speaks Out About Her 'Intense' Connection With The Star & Why Melanie Griffith Finally Filed For Divorce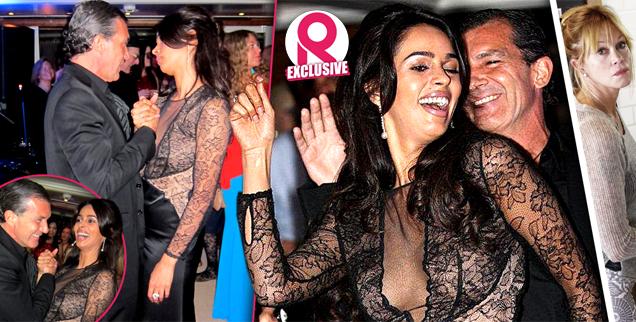 Just weeks ago, a picture of Antonio Banderas doing a flamenco dance with actress Natalie Burns sparked rumors that he and his wife, Melanie Griffith, were on the outs. But that wasn't the first time he was caught getting his groove on with another woman: Two years ago, the Spanish star and Indian actress Mallika Sherawat were taped grinding during a party in Cannes. Now for the first time, Sherawat's best friend is opening up about how Banderas connected with the glamorous star — and how their "intense" bond could have led to the breakdown of his marriage.
Article continues below advertisement
Indian star Sherawat's BFF, Los Angeles stylist Ivan Bitton, recorded the video of the couple's dirty dancing, and tells Radar that their dance floor encounter was only the beginning.
"I remember when they danced and they had a lot of PDA, he had a lot of public affection with Mallika," Bittar, 46, adds. "He was saying 'God you're so beautiful,' like a horndog would do talking to a prey."
But even then, there were signs that Banderas was having women trouble, Bitton claims.
"They were dancing and everything was fun … and this woman barged onto the dance floor and literally pushed Mallika," Bitton says. "It was like, get off my man …"
He claims he was later told the woman was an angry friend of yet another woman — "the daughter of some big agent" — who claimed to have a relationship with Banderas.
Bitton also claims to have seen Banderas with a third woman, a "thin-haired, white American girl" on a yacht in Cannes, while his wife Griffith was not present.
Article continues below advertisement
Meanwhile, Bitton says Banderas made no secret of his desire to get to know Sherawat.
"I know that he took her to Spain," Bitton says. "I think he got really like 'wow' on Mallika."
In early 2012, he claims, Banderas whisked Sherawat off for a European vacation. "It was just the two of them," Bitton said. "He took her without the wife knowing. He really made sure that this was a very discreet trip."
Nevertheless, Bitton claims, "I believe she met some of his family. That's how involved he was with her emotionally."
But at the same time, "He was with other women too. I had seen him with other women," Bitton says. "He was always in public with other women. So for me, I didn't realize that what happened between him and Mallika would cause Melanie to go around town with her ring on."
In fact, shortly after the video of Banderas and Sherawat went public, Griffith did just that. And according to Bitton, Banderas later told Sherawat that the video was to blame.
Article continues below advertisement
During a run-in at Cannes this year, "He was really mad about the video," Bitton says. "He specifically said that after that video, this is when everything started to go down.. It specifically started to cause problems with his wife."
Yet Griffith "must have known about other girls," he insists. "To me it's very obvious…only because he's so public about it. What I'm guessing is that they probably had an arrangement that it's cool for him to have other flirtations, as long as it's not public …with our case it became public and I think that's where she got mad."
As for Sherawat, Bitton claims that his best friend was very embarrassed when the tape that caught her and Banderas dirty dancing in Cannes - which Bitton filmed but says he didn't leak – was made public.
"She froze him out only because she doesn't want to be seen as a homewrecker. She really isn't a homewrecker," he says.
But now that Banderas is single, Bitton says he's speaking out because "it's really done between him and Melanie," and he might have a chance to find a happy ending with Sherawat.
"I know that it's very possible," Bitton says. "She likes him. What's not to like? …And I now he was really mesmerized by her. There is a real chemistry between them."