Exclusive
'He's Deeply In Love With Her' — Still: The OTHER Woman In The Antonio Banderas-Melanie Griffith Split Reveals How He Confided In Her About 'Marriage Problems… How Much He Wanted To Work It Out'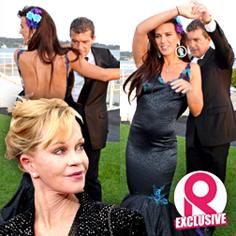 A photo of Antonio Banderas doing a sexy Flamenco dance with actress Natalie Burn at the Cannes Film Festival in France recently sparked rumors that the actor and his wife of 17 years, Melanie Griffith, were on the outs.
The split between Banderas and Griffith proved true last week when the Working Girl actress filed for divorce on June 6, but in an exclusive interview with RadarOnline.com, Burns says there is nothing romantic between her and her Expendables 3 co-star.
Article continues below advertisement
Burns stars in the 2014 flick alongside Sylvester Stallone, Jason Statham and Arnold Schwarzenegger and plays Mel Gibson's wife.
"I know he mentioned he had some problems in his marriage. In Cannes he was saying that he was trying to fix the marriage," Burns told RadarOnline.com.
"He is the most gracious person in real life. I thought it was amazing that he was so open to dancing. He's got such a great personality. I'm actually a trained dancer and I used to dance Flamenco. So he just said, 'Hey, let's dance!'"
Burns says while in France promoting their new movie, Banderas expressed his sadness at the split with Griffith.
"He's deeply in love with her... In Cannes he was sad which is why he told people and how much he wanted to work it out. When he said it he was upset and obviously going through a rough time," she told RadarOnline.com.
"I just told him he should fix whatever is going on and I hope they come to better terms. I think they're one of those Old Hollywood couples you want to see stay together."
MORE ON:
Sylvester Stallone
Article continues below advertisement
Not only is Burns not "the other woman," but she tells RadarOnline.com she really liked Banderas and Griffith together.
"I think they're great together," she said.
"And I just adore her Griffith and I always told him she's one of my favorite actresses and I can't imagine them not being together."
Despite the divorce filing, Burns says Banderas is deeply in love with Griffith, the mother of their 16-year-old daughter Stella.
"He would talk about her on set. He'd say things like, 'We did this movie together' and 'I've written this script with her.' I know he's really fond of her," Burns said.
"I never met her, but I know he's so in love."
As for the sexy photos that emerged of Burns and Banderas, she says it was nothing more than a friendship.
"He is an amazing actor and mentor, but he's more like a dad to me," she said.
"I was worried about that when the pictures came out. I personally wouldn't think anything about it because we worked together. I was worried for him. I didn't want him to get in trouble for that.
"I don't think we thought about it when we danced. But we were there for a party for the film with the cast. We came with other people and didn't come together. We just had a lot of fun."
Griffith filed for divorce on June 6 and although Banderas appeared to have gushed over her, the split is said to be amicable.