Exclusive
'Marriage . . . Has Lost Its Meaning' READ The Heartbreaking Tweets Melanie Griffith Posted Before Filing For Divorce — Did Antonio Banderas Miss The Signs?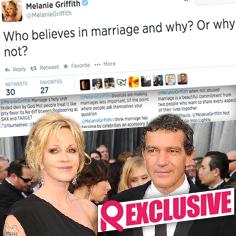 Melanie Griffith's decision to file for divorce from Antonio Banderas on Friday stunned the world — except, perhaps, for her Twitter followers. RadarOnline.com has learned that the blonde actress posted several emotional tweets about marriage — and divorce — in the days leading up to the split, and only RadarOnline.com has all the details on the signs Banderas may have missed.
"Who believes in marriage and why?" a pensive Griffith tweeted on May 2. "Or why not?"
Article continues below advertisement
And based on the messages she chose to retweet, it seemed she was siding with the latter camp.
"I think marriage has become, by celebrities, an accessory," one message she chose to retweet read. "It also keeps them in the press. It has lost its meaning."
Another retweeted message read, "Divorces are making marriages less important . . . "
"People treat marriage like prty favor sic," Griffith, 56, retweeted.
"Don't need a piece of paper to show we love each other," another fan tweeted, and she responded "Agreed!"
After mulling over her fans' responses, it seemed Griffith found new strength and resolve, retweeting an inspirational post that read, "Doubt me. Hate me. Rate me. Shake me. Break me. NOW WATCH ME."
Indeed, the whole world has watched as she finally took the decisive step to end her marriage on Friday. According to the divorce documents obtained by RadarOnline.com, the date of the couple's separation is to be decided — but from her tweets, it's clear her mind has been on her crumbling relationship for at least the last several weeks.